CONTINUE →
The User Mindset
Your Mac crashes, and you click, swipe, tap an appointment at Genius Bar. Dual-processor? Motherboard? Gigabits? All you know is that your Mac is grey, and lately, it has a vulnerable touch bar. There was a time when in order to use technology, you had to understand it. 'Geeks' with the necessary knowledge interacted with hardware. That changed. In the new world, user-friendly software hid clunky mechanic prompts under a seamless experience. Apple is the poster child of this change. But there is a trade-off. When you can't understand a system, you can't influence or question it. This is the user mindset, a pathologic state in which we favor convenience over knowledge or autonomy. Every time the software updates, you re-sign the constitution/contract/ treaty. In a digital world, operating systems are political systems. Your purchase is your vote. The user mindset is a universal cultural condition that takes us out of world-building mode and puts in its place conformity. Settings became System Preferences, and true hardware innovations took a backseat to yet another system update.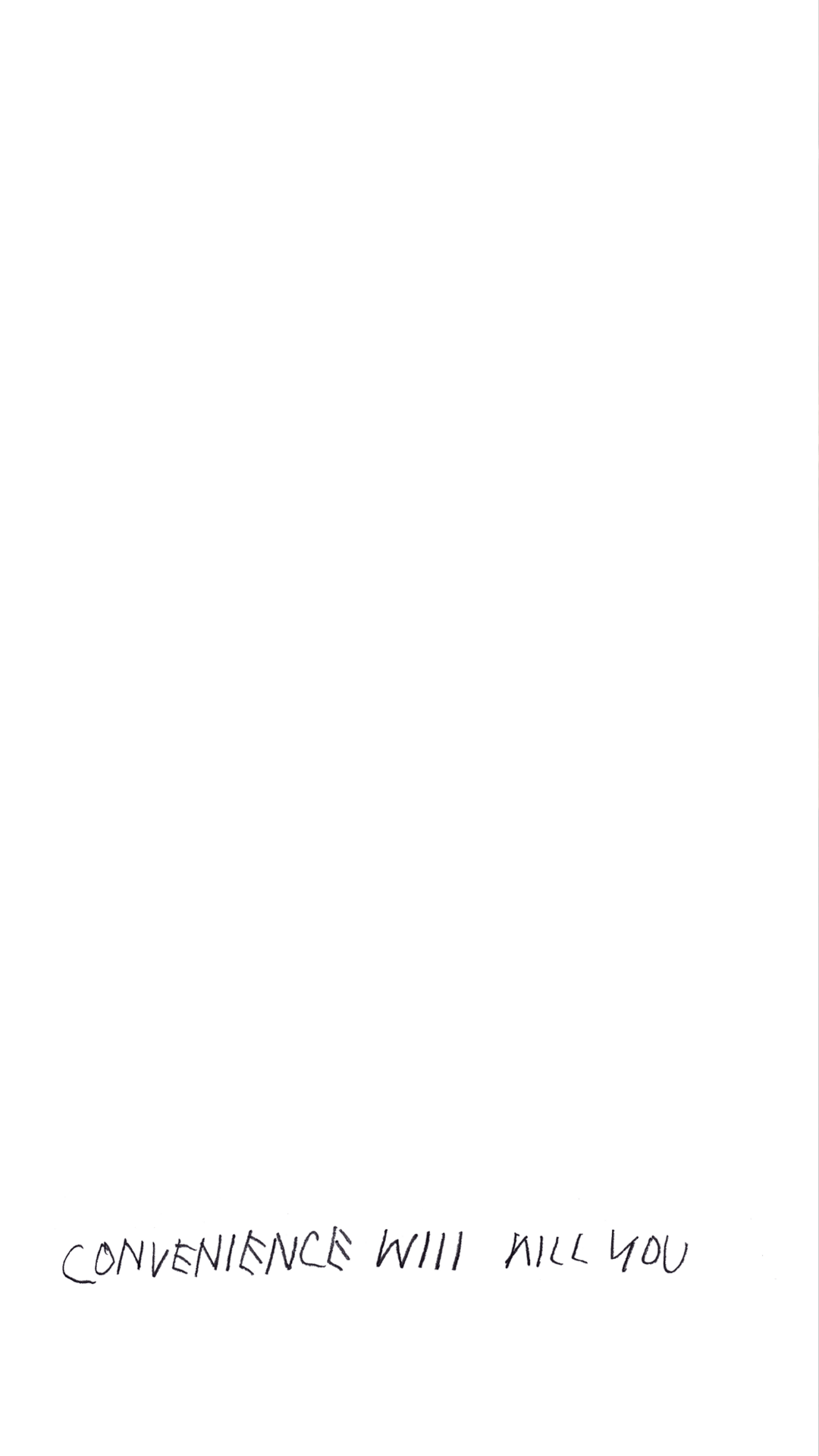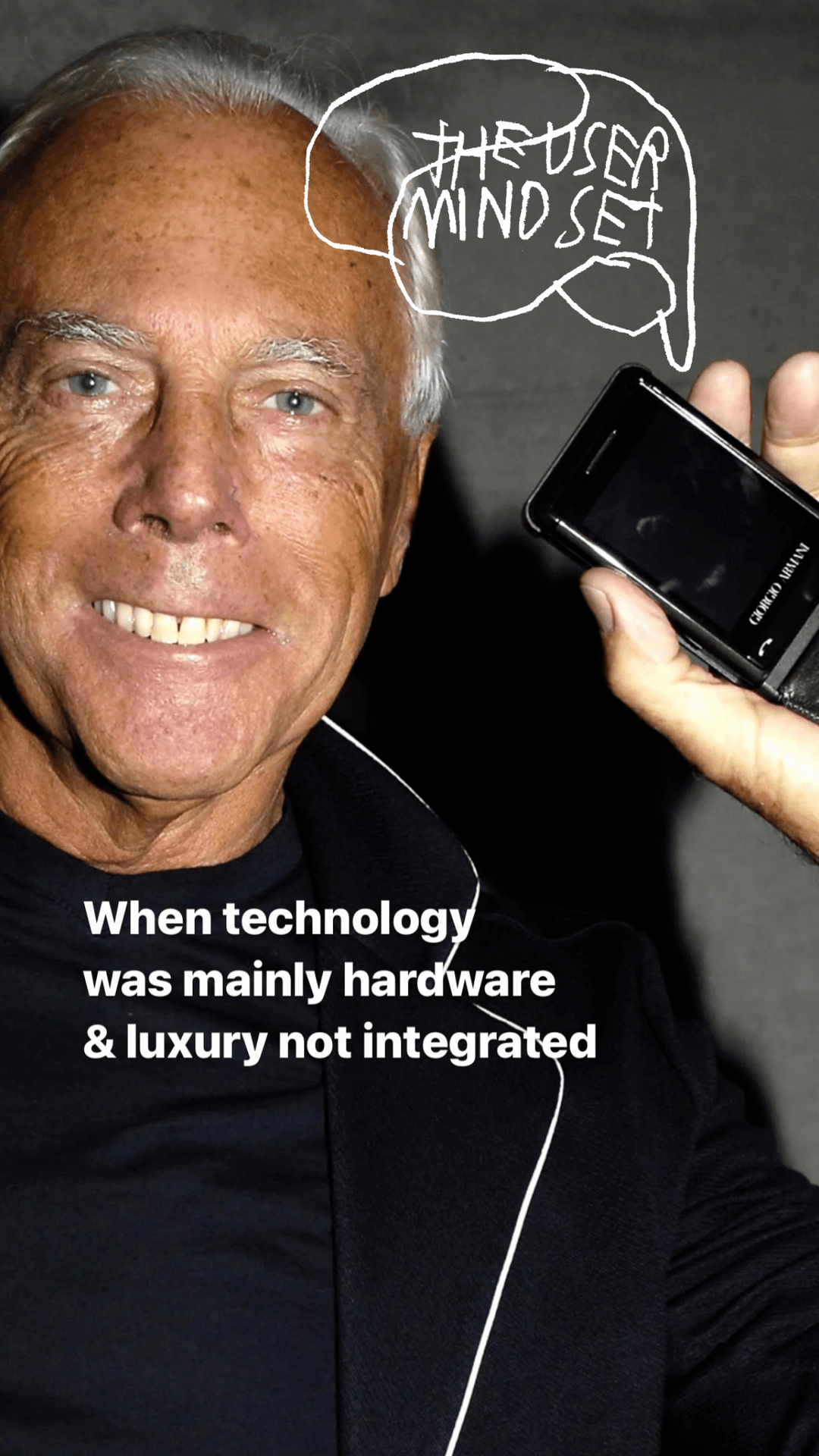 THE USER MINDSET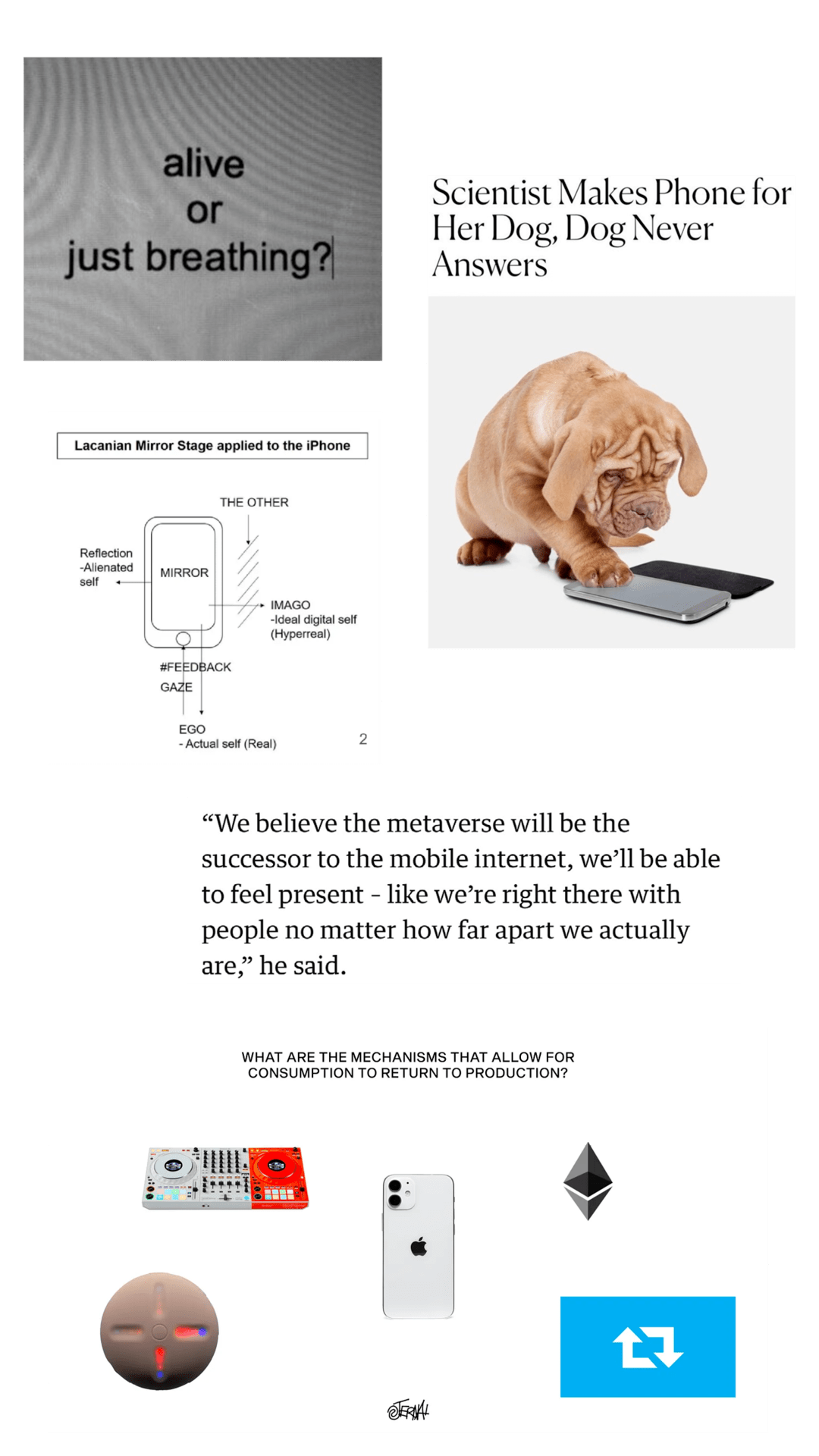 CONTINUE →
Monetizable Pathology
I was at the 9/11 of fashion. I was at the YZY show during Paris Fashion Week in October 2022.
It's great when you have a cultural moment that we can all agree on for the sake of collective sense-making. I compare it to 9/11 or maybe even better to the Insurrection because, at this very public moment, we witnessed something going wrong. How we as a collective have been living and enabling it under the surface. Culture shifted that day and left a blank space, not to the suppressed; It's the suppressed that we wish to never see out in the open. What are we about? What is art? What is our mission as artists who must admit to being part of an opinion-forming industry? With fashion brands turned institutions, along came the demand for political correctness, yet it has always been the job of fashion to amplify societal undercurrents and question conventions.So we're in a bit of a bind. Someone smart said to me: Look at sociopaths closely; they are the personification of the suppressed in society. The accumulation of our collective pathology. #MeToo, Fraudpreneurs like Sam Bankman-Fried & Elizabeth Holmes, Con artists like Anna Delvey, and Sociopaths like Jeffrey Dahmer. The begging question is all around us. Power is relational. The men we raise, the successes we praise are systemic. They are part of us. They are you. And the answer is not in their absence but in confronting their existence fully. We remove the symptoms. But the questions remain how will we fill the cultural blank, and what in us is making this happen?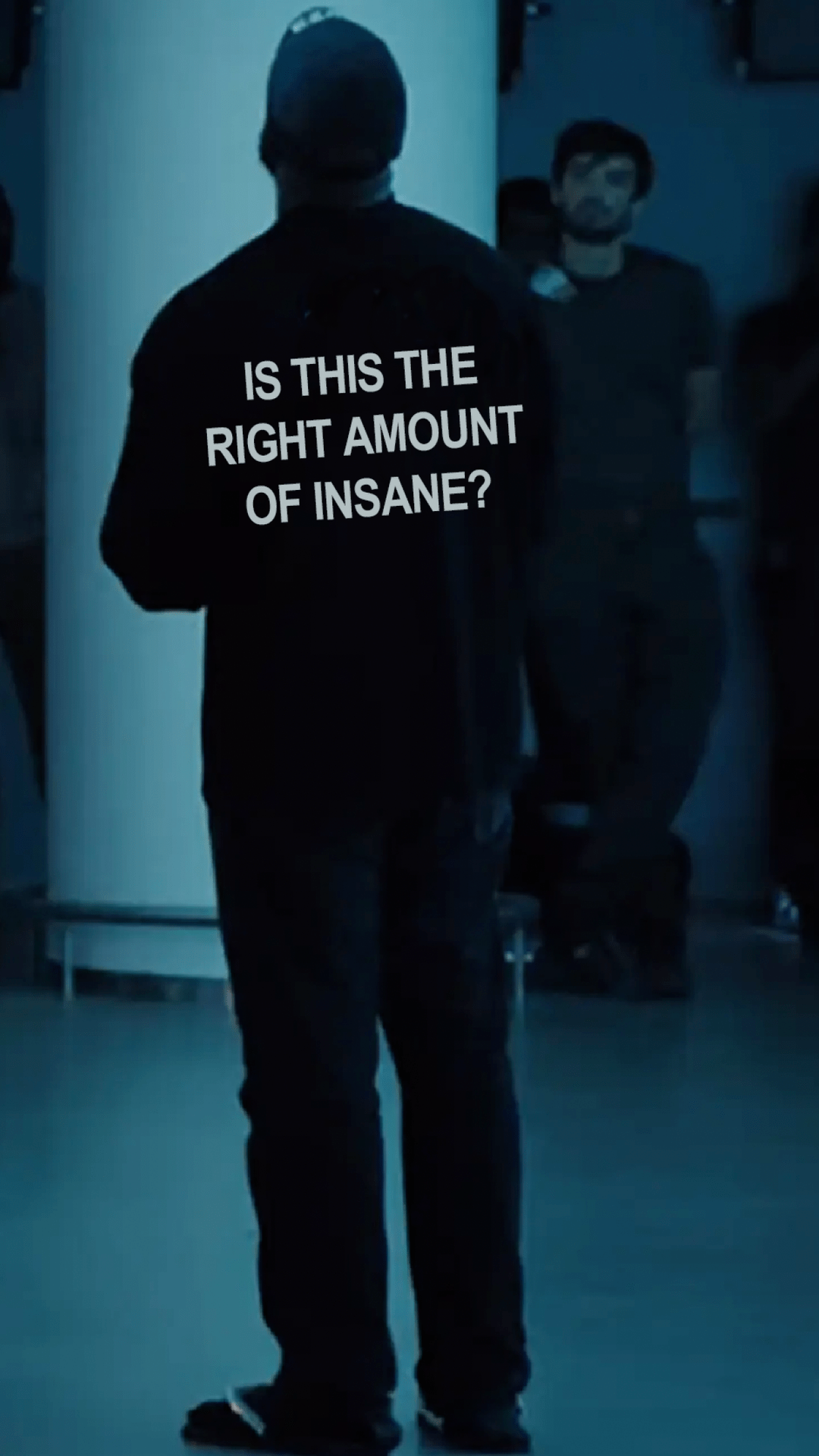 MONETIZABLE PATHOLOGY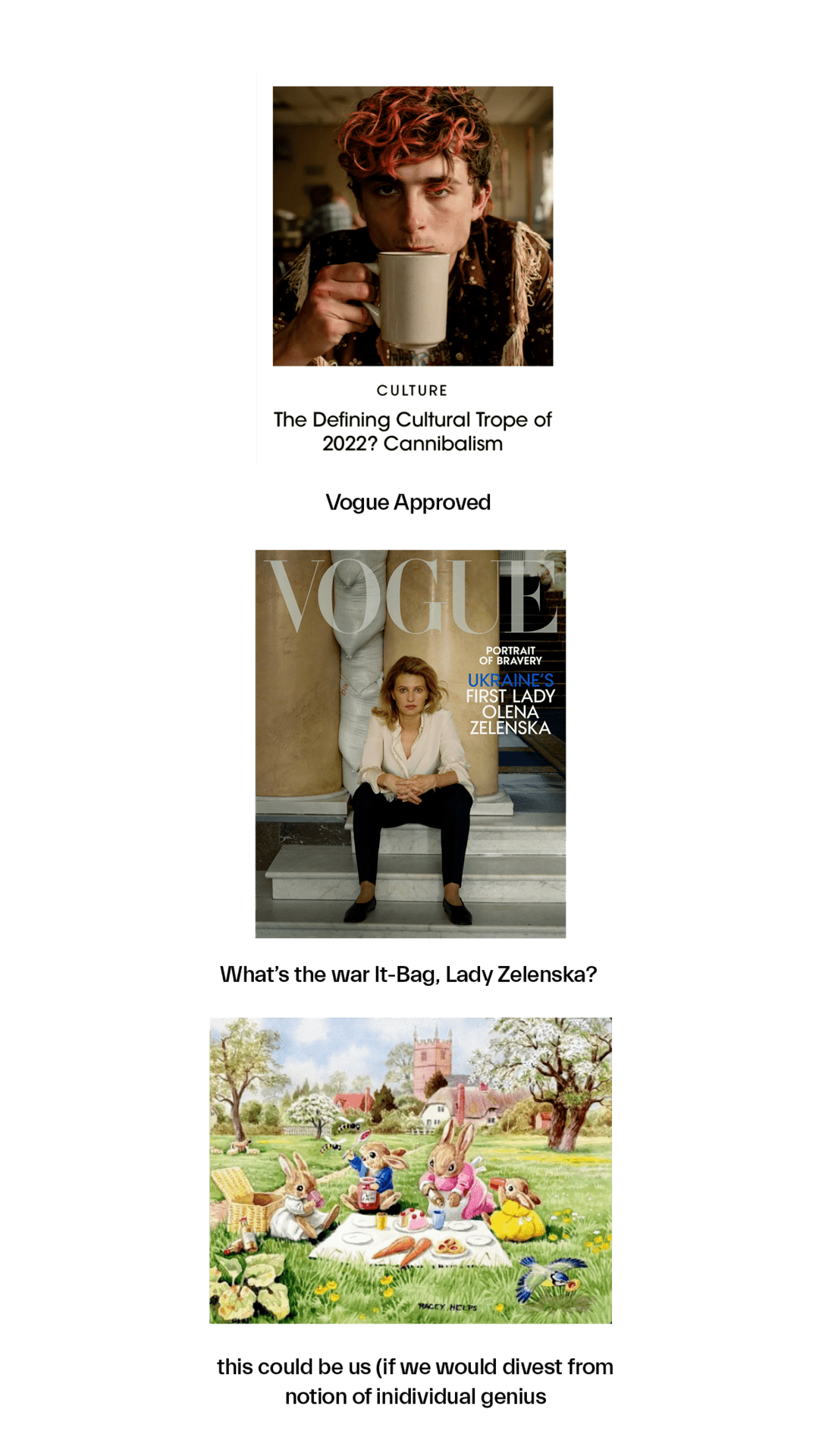 CONTINUE →
Digital Amnesia / Built-in-Forgetting
It popped up on your feed, and now it's gone. You don't remember the source, but you do remember who you shared it with. AI doesn't forget. It is, by its very nature, a constantly self-referencing archive. Forgetting is inherently human. It helps us to overcome pain by clearing certain information from our hard drives. But now we forget hard data. Swamped by the content industrial complex, we outsource knowledge to the Google Search engine. It's as if we became an empty container — Robert Musil's "Man without Qualities.", "a pastel futureless man, born anew at every instant. He exists in a certain freshness which seems, if I may so, very desirable." In mindfulness, we are told to attain happiness through complete presence in the moment. What happens if we know nothing anymore, if we forget language and how to turn on the oven? What if we all collectively forgot who we are and how we came to be? We'll be left with only the felt knowing, the unsayable thread embedded in our membrane long before birth. The thing not learned. The thing that AI can't remember. The eternal sunshine of the spotless mind, where only the soft skills will be remembered.
DIGITAL AMNESIA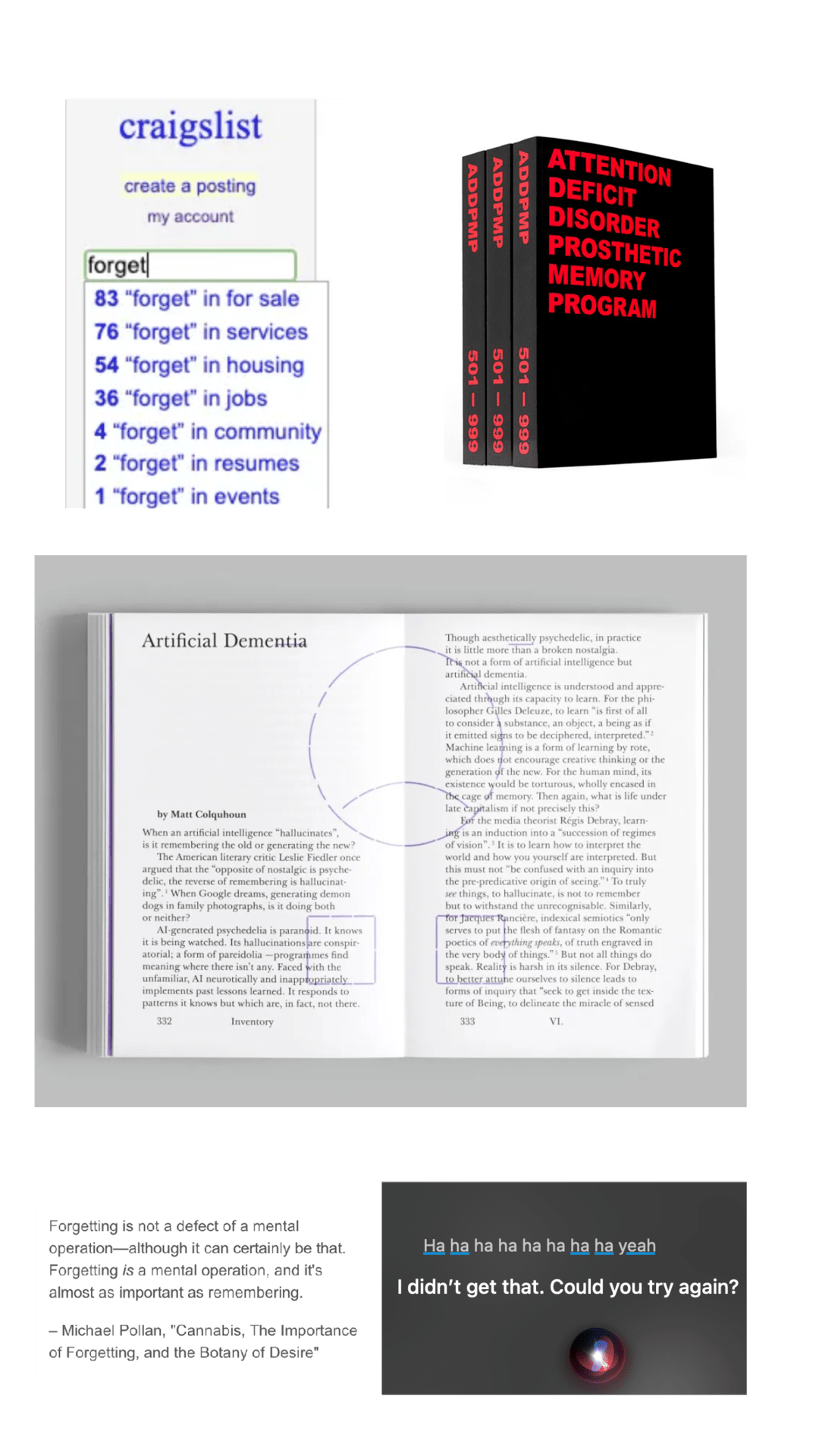 CONTINUE →
Corporate Culture
Never before have Culture and Money been so closely intertwined. Crypto is nothing but Culture. A currency based on a new collective identity. I am an anarchic pioneer. I have a wallet. "Sometimes everything has to change for everything to remain the same" is all we have to say on Web 3.0 and Crypto. Yet, I currently prefer to chat with my friends in finance about the state of Culture and drewl over Jeremy Strongs' Patagucci fits in HBO's Succession. We need a Blackstone Balenciaga collab. Culture became a profit-driven industry and lost its key signifier — passion. What we label as Culture today is, at best, a nostalgia-ridden trope, artificially generated and controlled by market capitalism (marketing) or simply too irrelevant and fragmented to become a wave. In late capitalism, Culture is consumption, not conviction. But just like in Francis Fukuyama's "End of History," Culture will continue to go on even after its death. Human creativity is migrating, and it will be interesting to see if AI-created Culture will turn us into useless matter or rather valuable critics. With the necessary distance to look at what's being created when it's not coming directly from us. After all, what's worse than being oppressed? Not knowing that you are.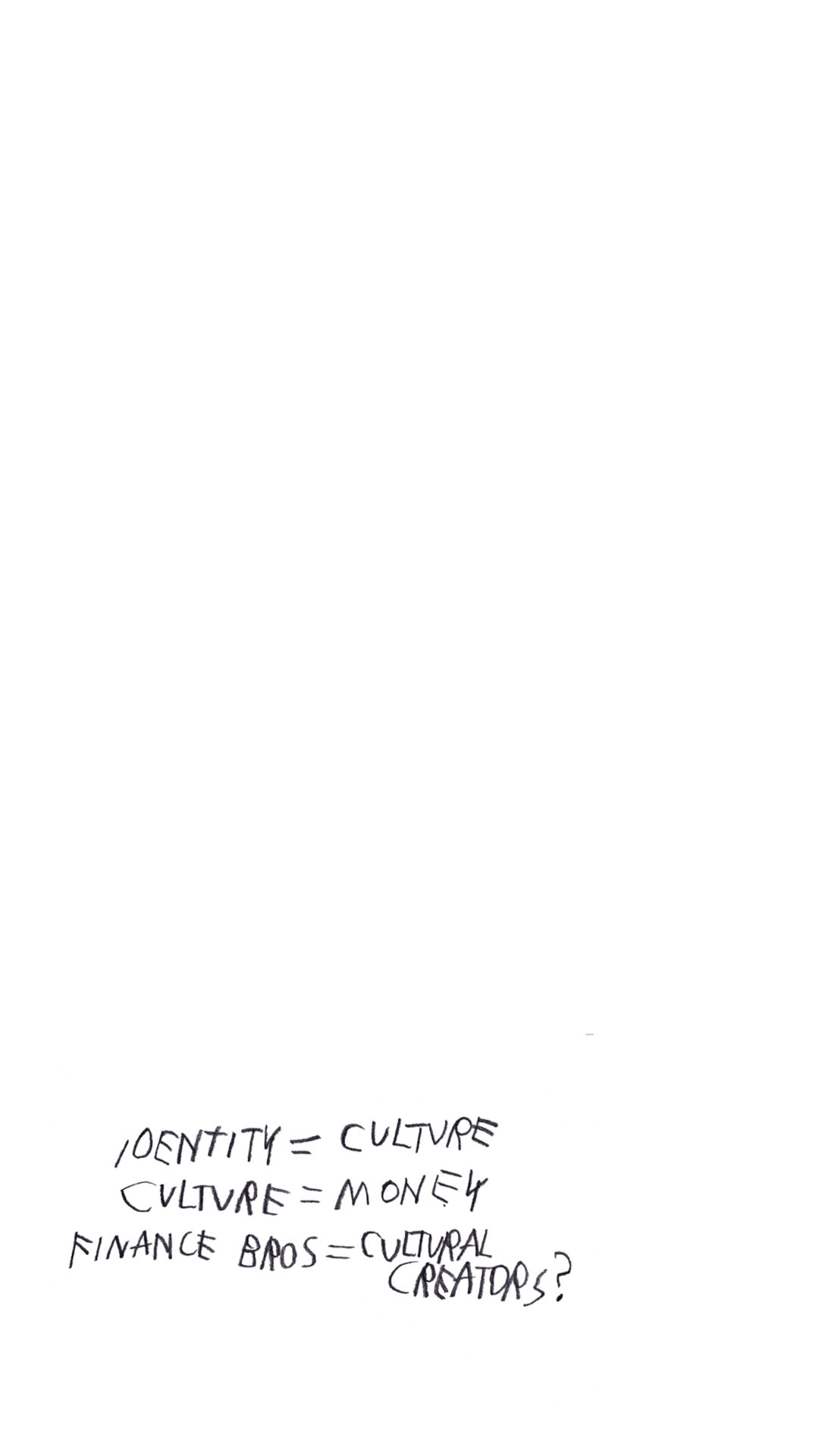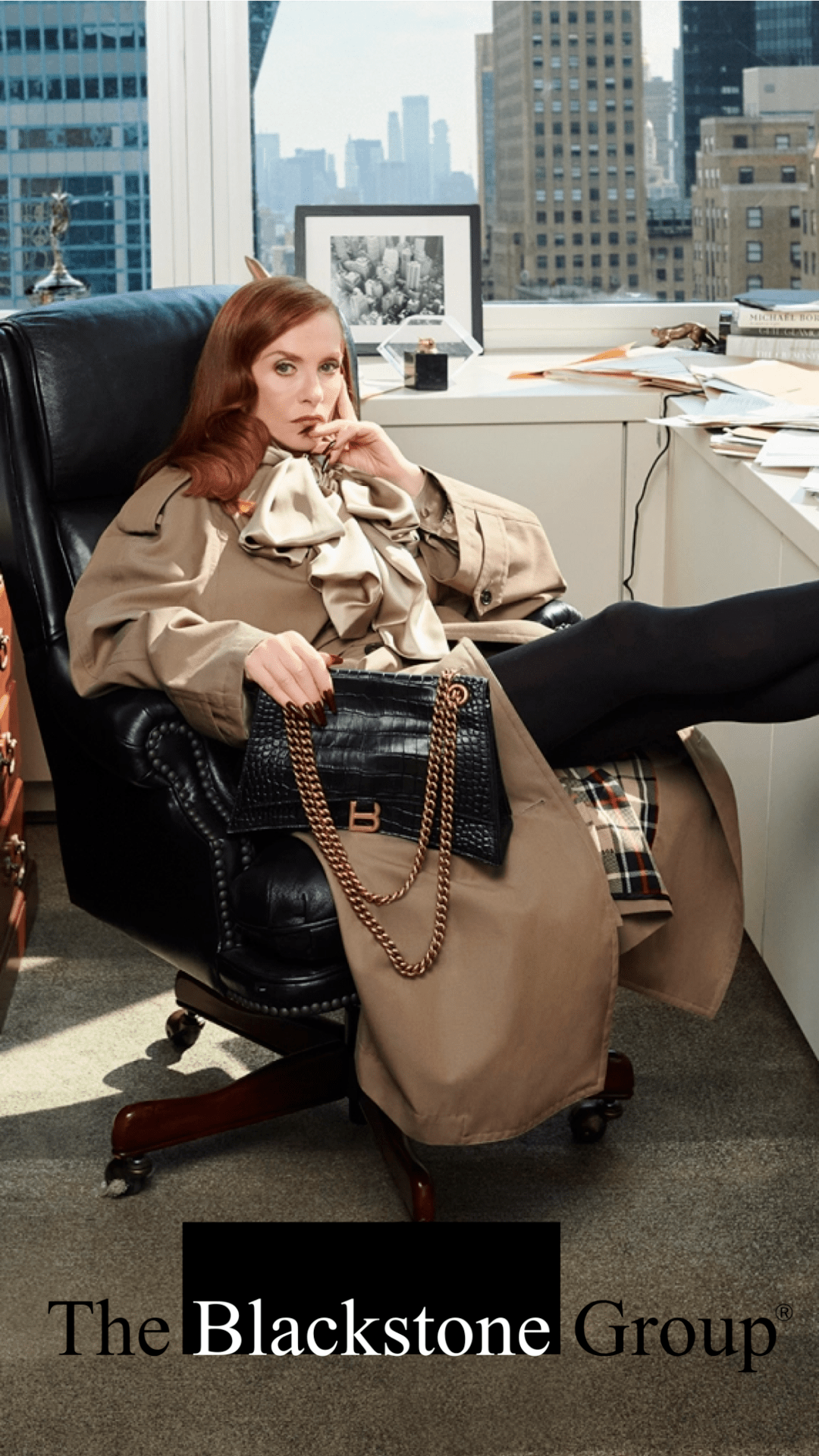 CORPORATE CULTURE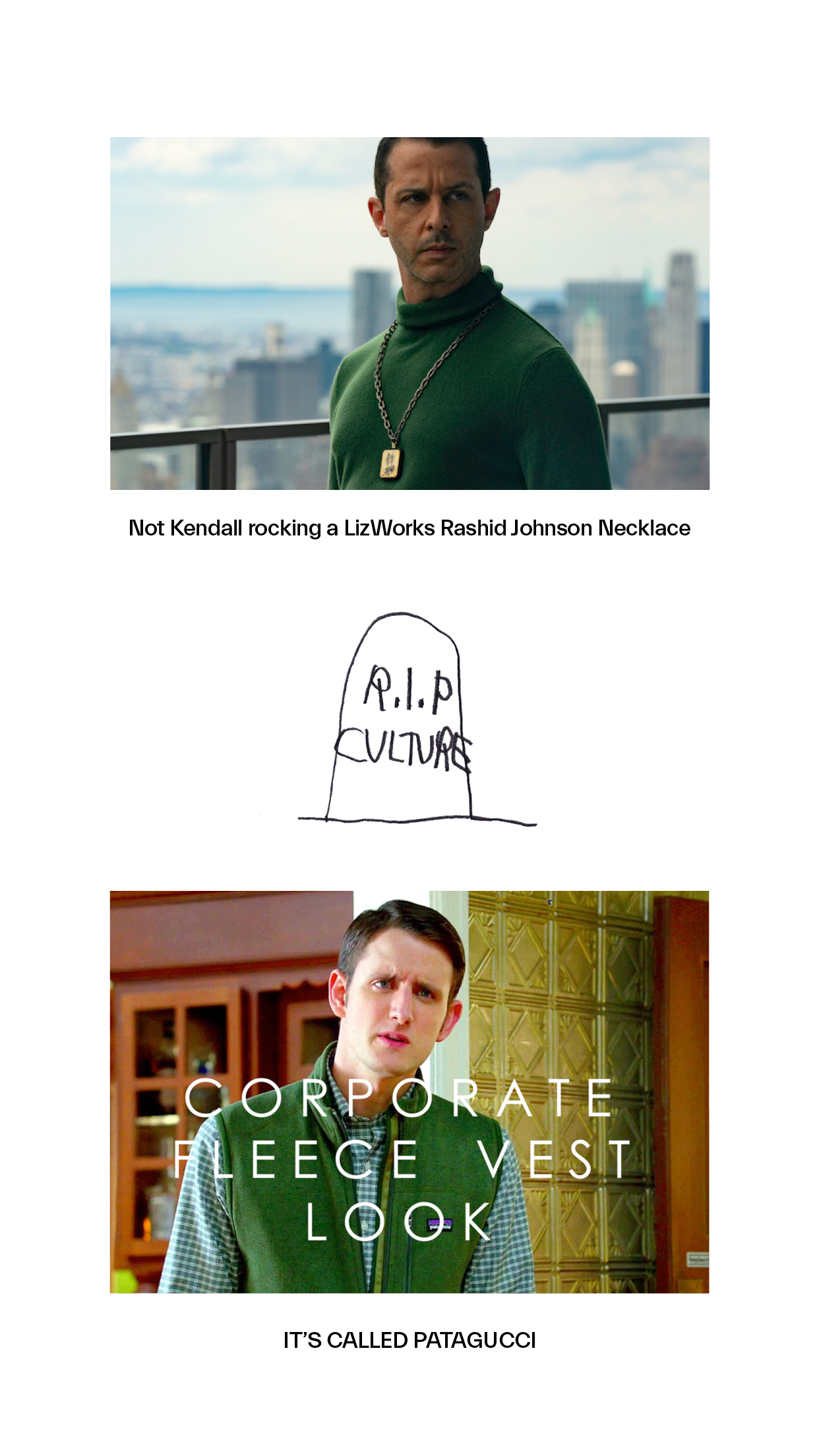 CONTINUE →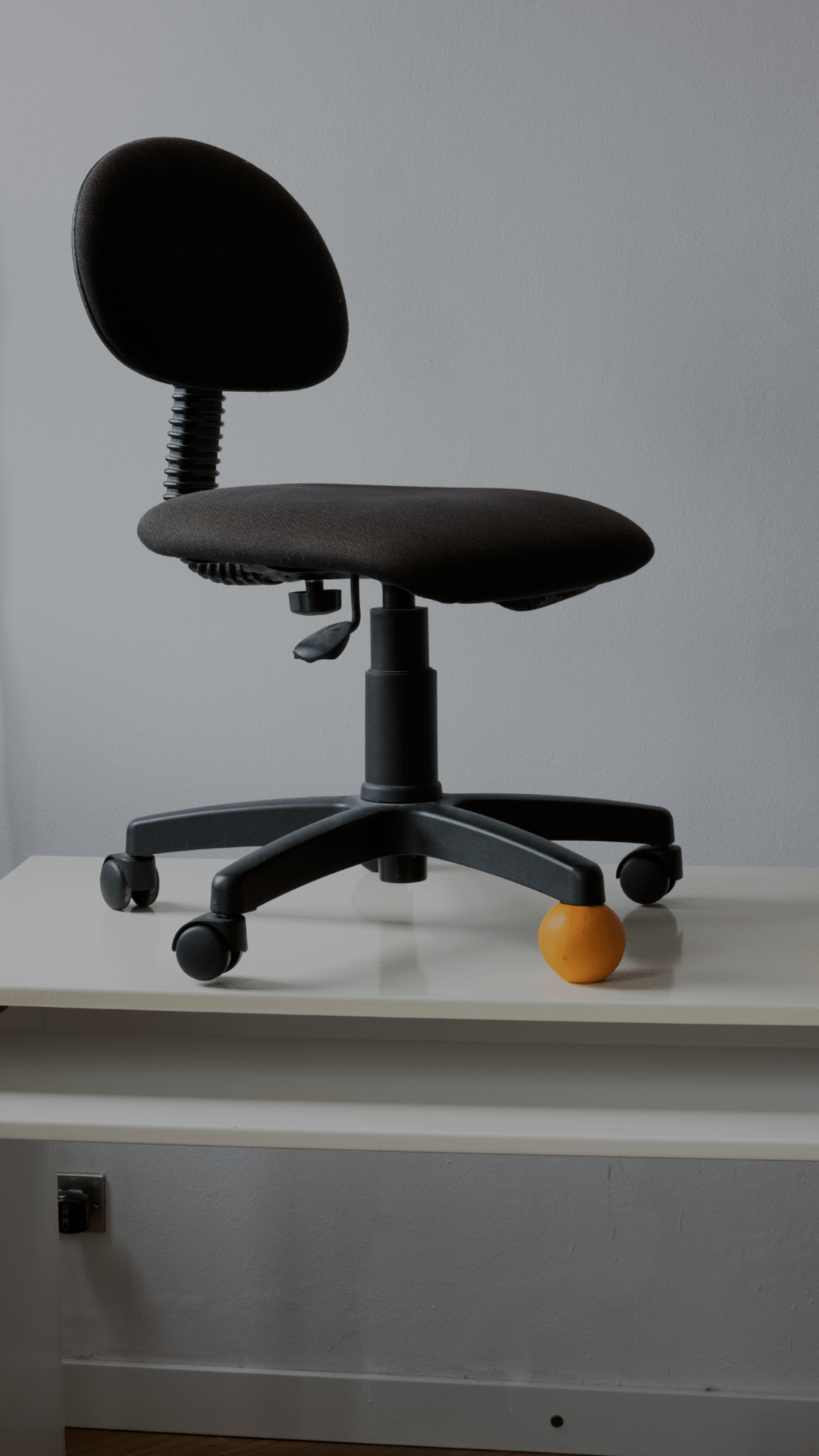 Job Descriptions of the Future
Post-work?
Nah ah, not yet — we got new jobs. Here are some of the emerging examples of what you will do tomorrow.
TEXT Reggie James
IMAGES Alessandro Furchino Capria
JOB DESCRIPTIONS OF THE FUTURE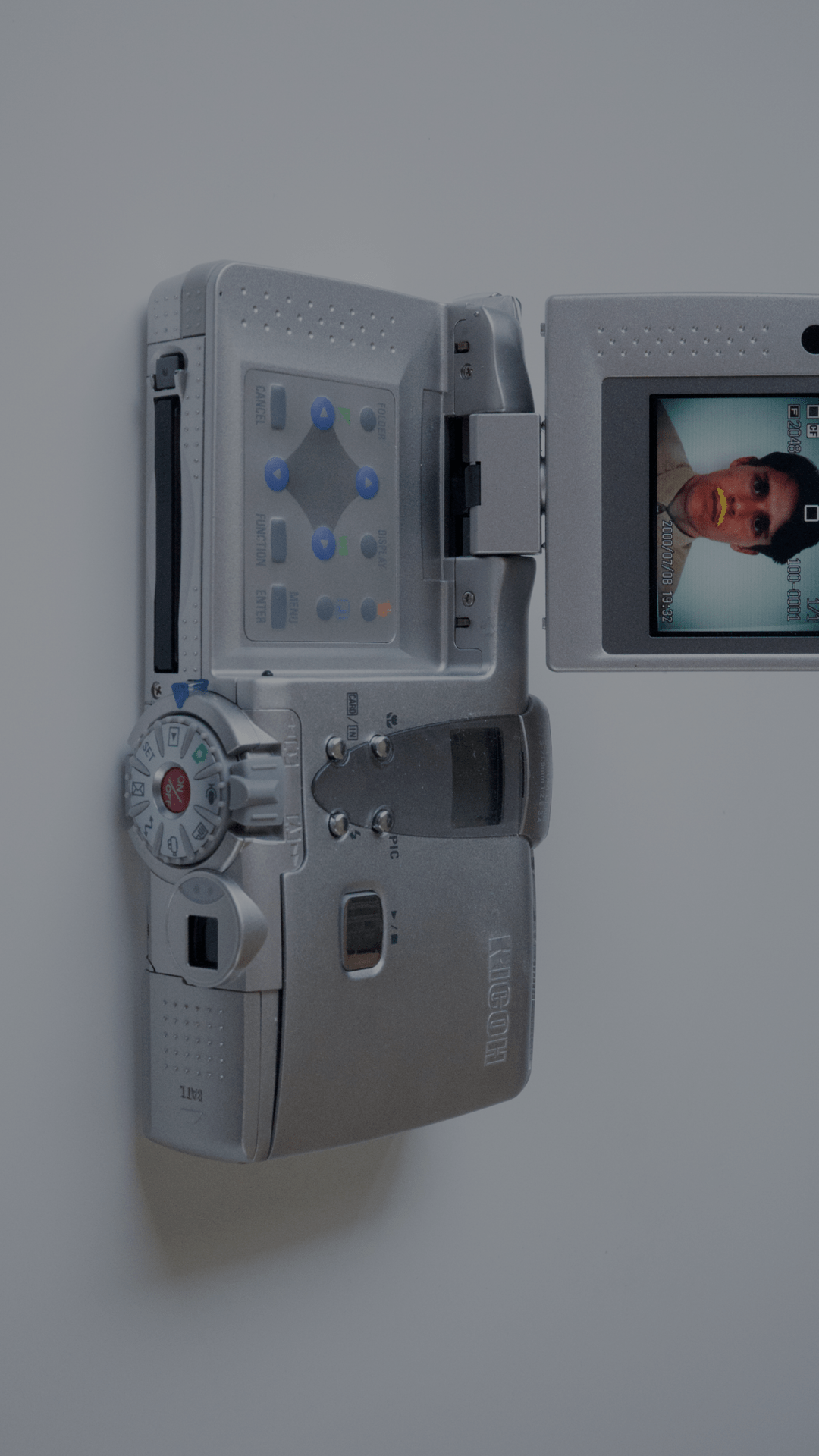 Capitalist Clown (C-Suite)
Salary: 2 NFTs / Week
The court jester is the voice of the kingdom. In this role, you will create the vibe at a product photoshoot via NTF radio playlists, good looks, and just being around. What is that community feeling? How can we surface it to key stakeholders? How can we coordinate the executive response with the rest of the team while you stay funny enough to keep your job?
Qualifications: A niche finsta. 10000h watched of "Nathan For You," "South Park," and "Curb your Enthusiasm." A degree in post-ironic critique or an active member on the "Do Not Research" Discord Server. Extensive knowledge of the –cellectuals landscape or another related field.
JOB DESCRIPTIONS OF THE FUTURE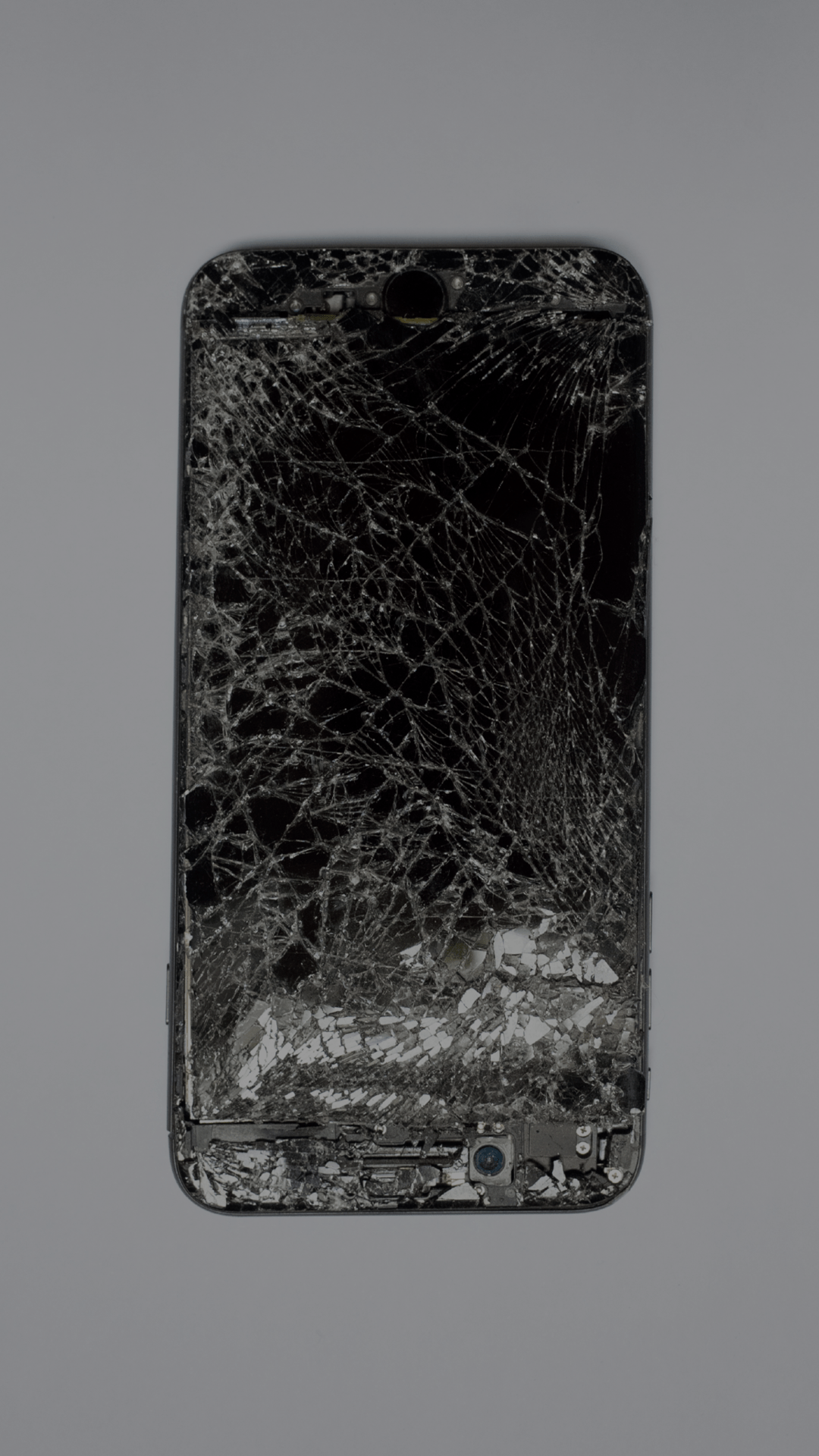 2nd Brain
Salary: Determined By Subscription Rate
2nd Brains have a special place in our organization. For decades, those that are idea conduits fed the engines of managers and designers without compensation. Today, we are proud to subscribe to many 2nd Brains, formerly known as muses. Utilizing their elusive knowledge as core data playing ping pong on two processors. The vibe becomes data. We distill your elusiveness. Incorporating thoughts and feelings free from market capitalism back into the system. Not sure if you are a 2nd Brain? It's Virgil working for Kanye, Camille Claudel influencing Rodin. You are the content of our output. The Sedgwick to our Warhol.
Qualifications: You know the secret third thing before everyone else does. Have a 2nd Brain profile that we can review and subscribe to.
JOB DESCRIPTIONS OF THE FUTURE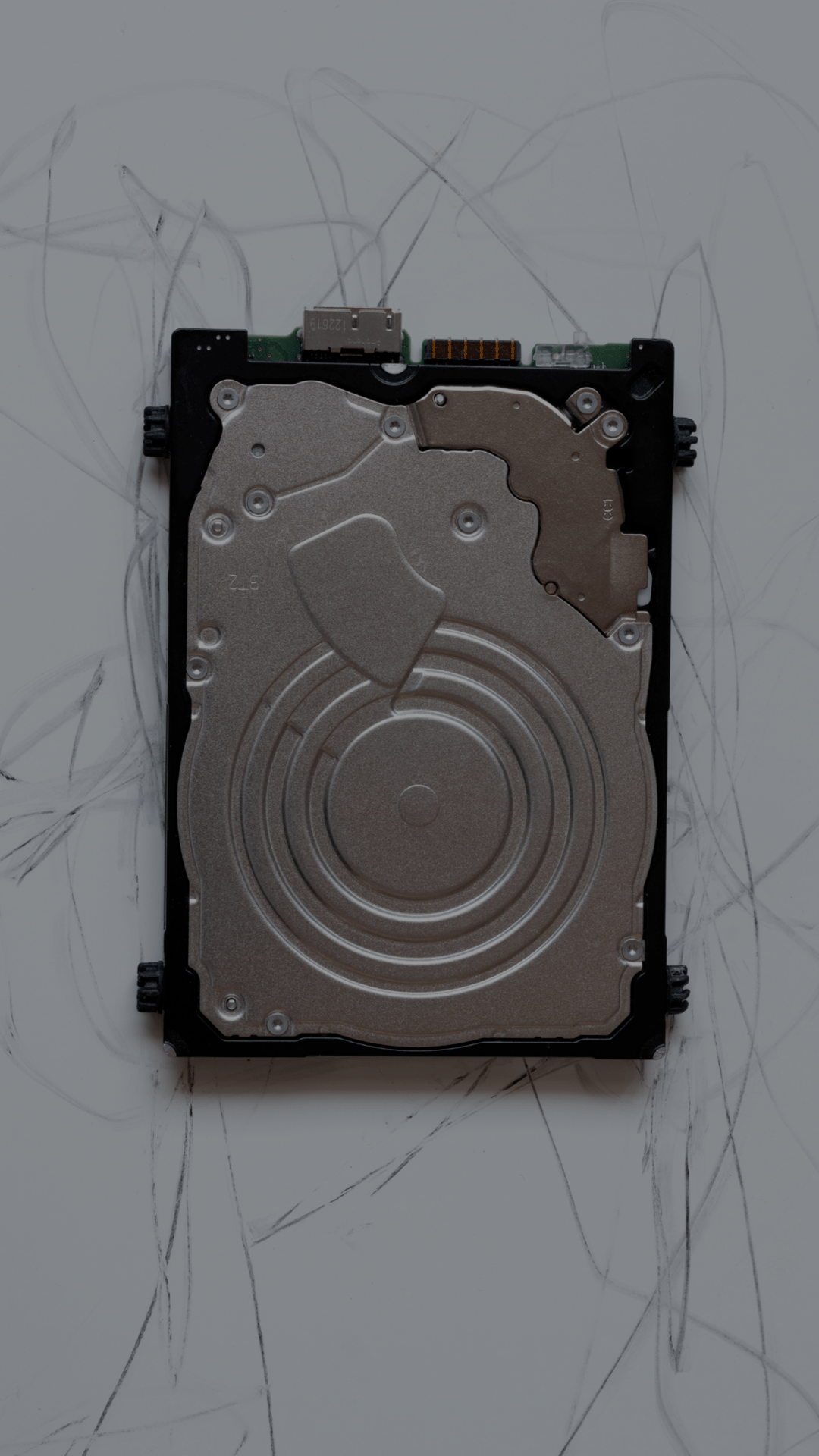 AI Wrangler
Salary: Determined By OpenAI Foundation
At corporation, we have AI performing core functions of our business. We have to actively work to keep machines and their outputs machine-like. In this role, you'll be in charge of engineering new machine-learning algorithms that mimic spontaneous emotions while remaining without conscience. Making sure LilMiquaela won't start posting herself. Placing Google LaMDA back into the realm of non- sentience. Keeping Emma the Sexbot from stealing your husband. Let's ensure the AI is not getting too good, but better not too bad either.
Qualifications: Minimum two DALL:E Mini artworks created. A dual degree in computer science + psychology. Proficient knowledge of Transcendental Meditation. Bonus: You are a close contact of Marianne Williamson.
JOB DESCRIPTIONS OF THE FUTURE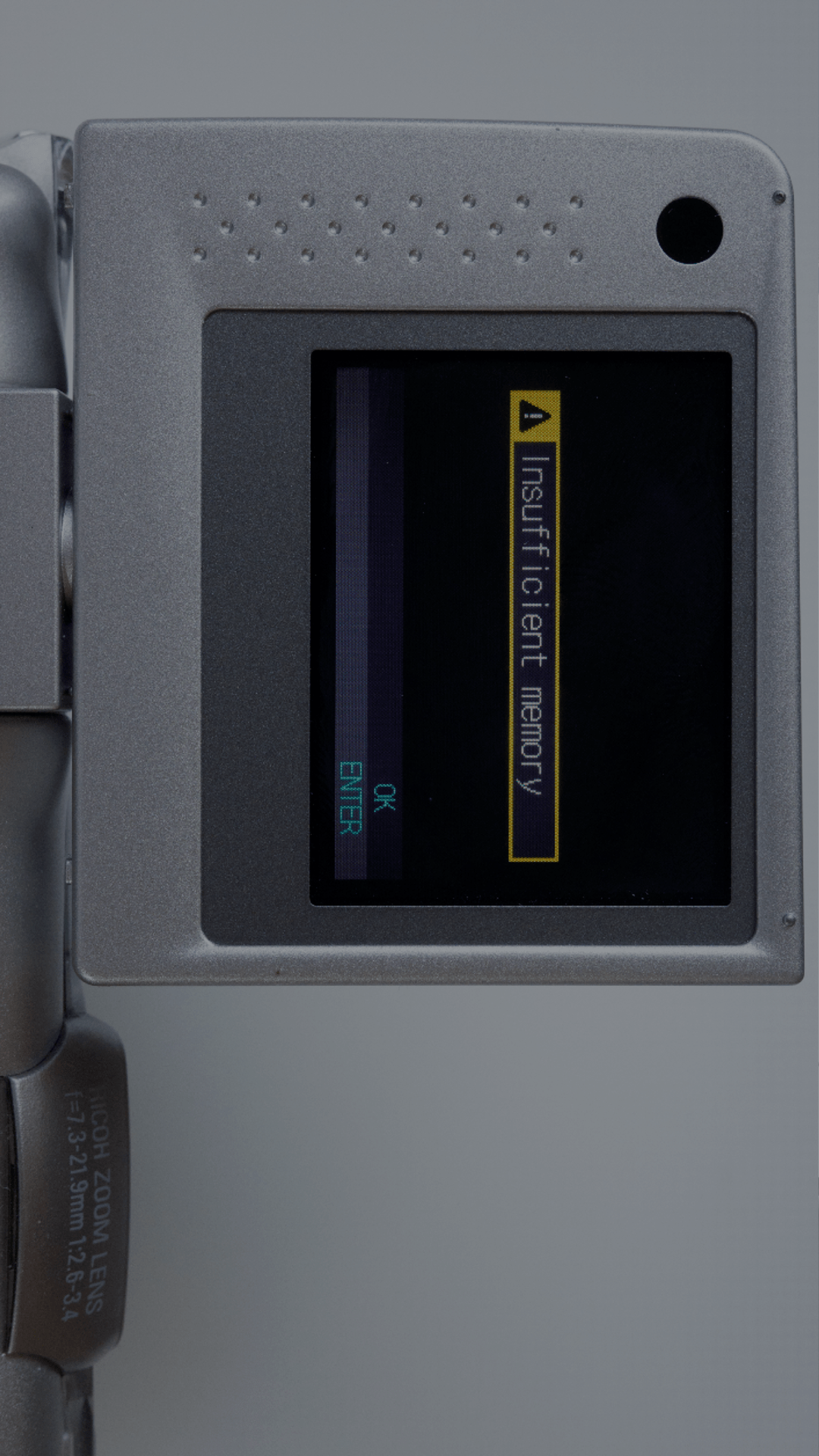 AI Interpretation Manager
Salary: 1 Bitcoin 50 ETH / year
At corporation, our AI produces an abundance of imagery that becomes manufactured at aglobal scale. Before we ship finalized product, post- output editors add the touch only a human can. You will interpret the AI's intentions and ensure that its messaging is relatable to other humans. What is a good joke? What is politically correct today? Success lies in the grey zone before getting canceled. You are the human bridge with skin in the game, building a certified human™️ future.
Qualifications: Proficient in Adobe Creative Suite. Socials with viral meme production or media placement. A healthy two-ring circle of platonic peer relationships. Moral flexibility.
Job Descriptions of the Future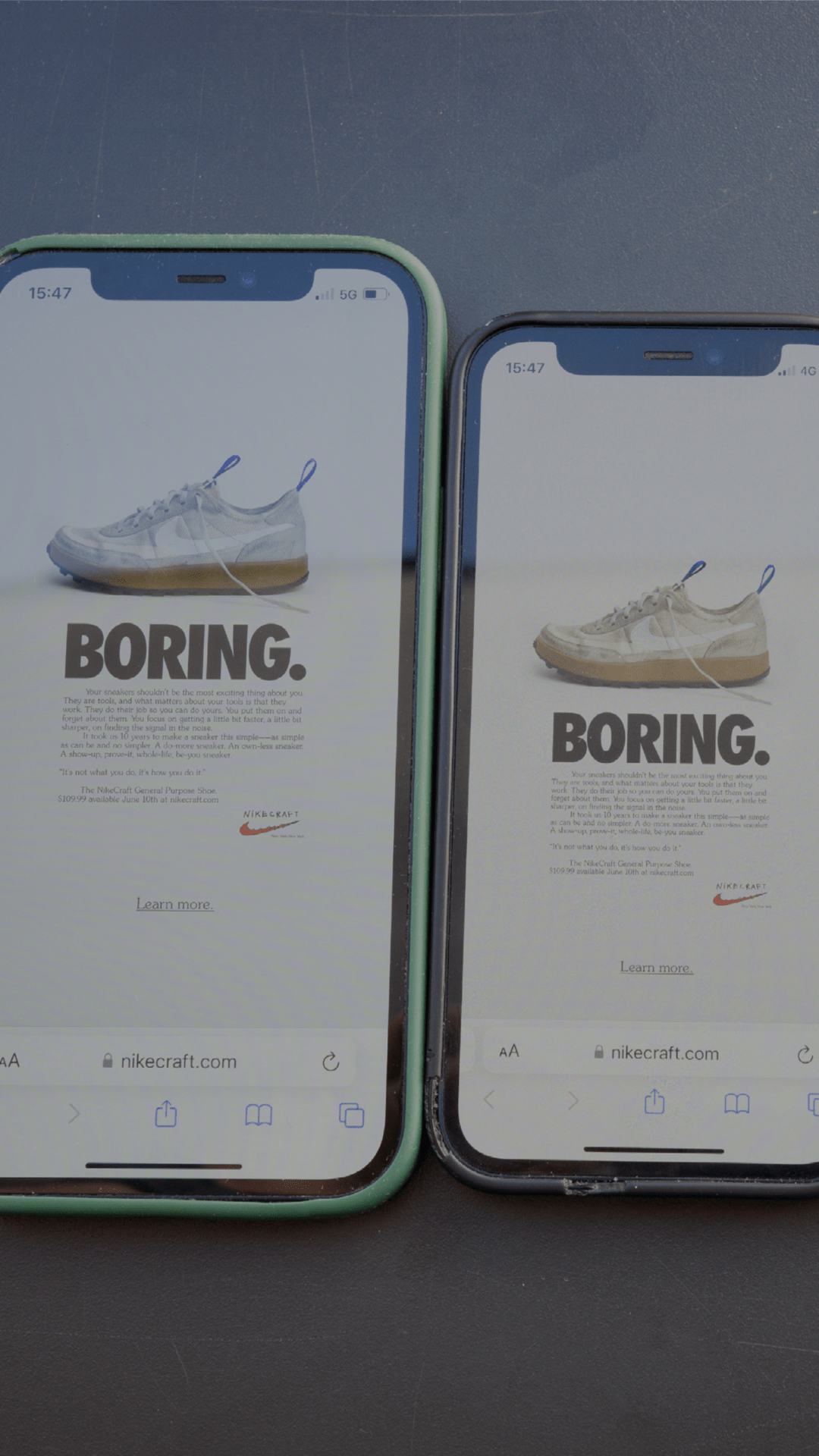 CONTINUE →
Auto-Pilot Fiction
What to be and how to be in today's world. That's the crisis of the contemporary individual. How to make it out on top in a system that's kaput? Am I still a product? At the opening of the Mugler Exhibition at the Brooklyn Museum, I run into familiar faces, but they're not the people I know. Life that night is a photo-opt, and everyone is a character. In the post-simulation state, we look for comfort in simulation. You can be as if you were. But we all know it isn't real. You're driving a Porsche, but your apartment doesn't have a window. The individual, crushed between soul and commodification, puts on a persona, dolled-up, fearless, speaking in soundbites at maximum volume. So much so that the drag queens attending the event fade into the background. What used to work now feels like defeat. The day after, the self wakes up hungover. Denied, negated, denial celebrated—the real hidden from a society that honors the fake. There is no resolve to true identity. The mode that was once productive, the one of the self as a product, is no longer. The state of culture: Ultimate pretense. Self-importance. Peak irrelevance. We need a system that doesn't rely on personas or performances and instead celebrates a person's genuine private self.
AUTO-PILOT FICTION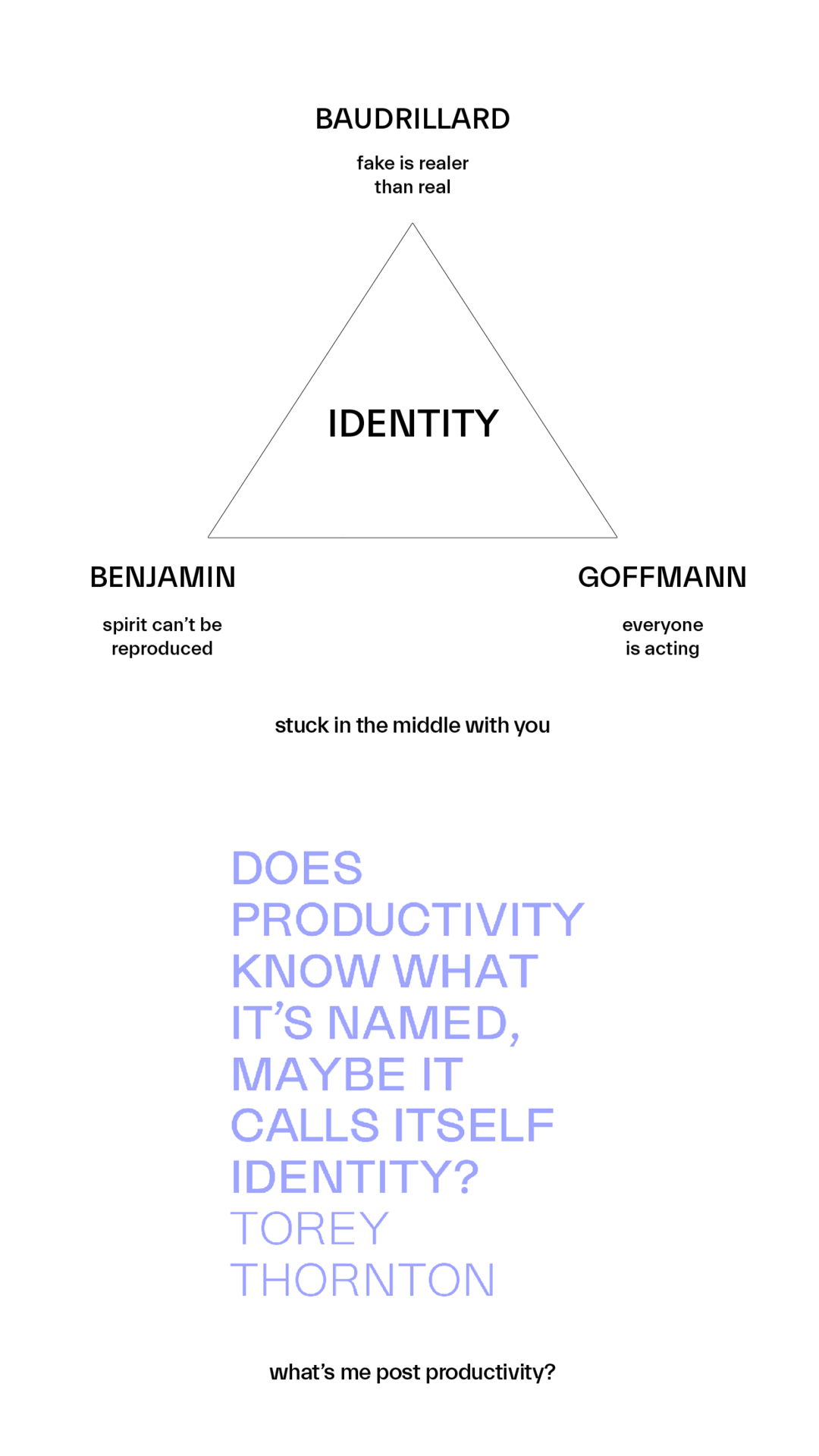 CONTINUE →
Postcore
"In the face of the functional object, the human being becomes dysfunctional, irrational and subjective: an empty form, open to the mythology of the functional, to projected phantasies stemming from the stupefying efficiency of the outside world." Baudrillard, System of Objects.
I am the homicide; I am the macro-close-up of a stem. I am all the images I glimpsed in my feed. Because now, I know that a diversified identity is the software update to true association. Goth-librarian-chic. Dasha Nekrasova, cute girl shooting guns, a right-wing leftist movie star, unshowered at Equinox. How many random contradictions can you mash up in one tiny little person? This is Postcore, not another Cringecore, Hardcore, Normcore coining terms acronym. The vibe shifted to nirvana. We're done with core, and if we could be post "post," we'd be done with that too. Postcore is the realm of hyper irrationality in the face of algorithms looking to read and mimic their target audience, where looks no longer tell us who you are. Aesthetics are not connected to thought. If you don't make sense, they can't get you. In biology, they say heart rate variability — nonlinear highs and lows — indicate a healthy person, whereas the most linear heart rate, a congruent line, equals death. So here we are, dropping schizophrenic semi-binary looks, playing hard to get with the algorithm. The disobedient consumer. Identity liquified. Is this a successful protective shield against targeted digital marketing? An effort to differ from and be superior to the machine? Actual resilience building against the mimicry of humanity by AI? OR the precursor to immortal cloud consciousness downloading itself into different physical states? If we become more irrational, will the machine follow our lead? There is a problem, Post-Core is still a core. Fake contrarian, still binary, still system affirming. It is, at best, a step in the direction of true fluidity, where we'll accept all of our isms in a future undefined.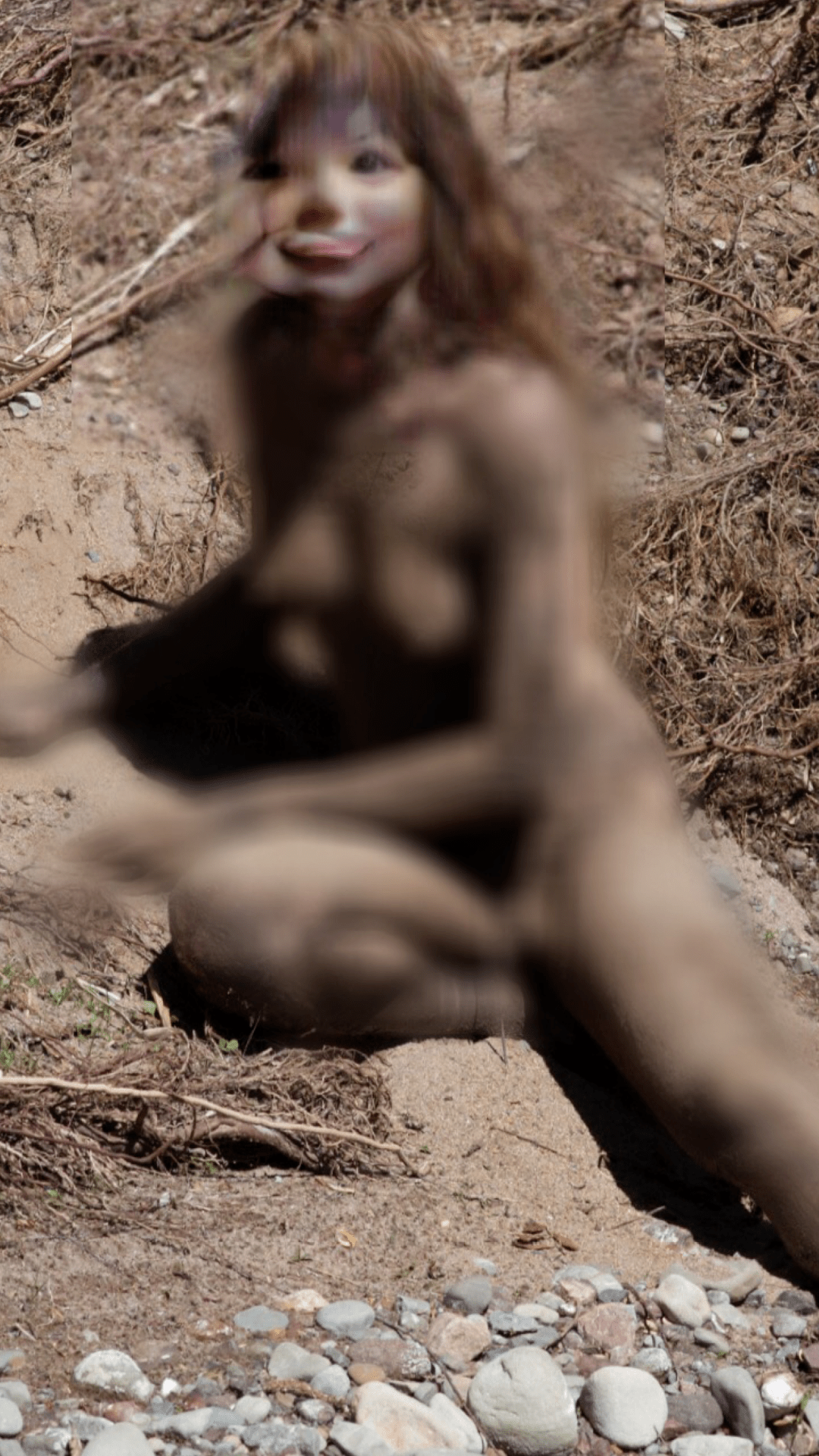 POSTCORE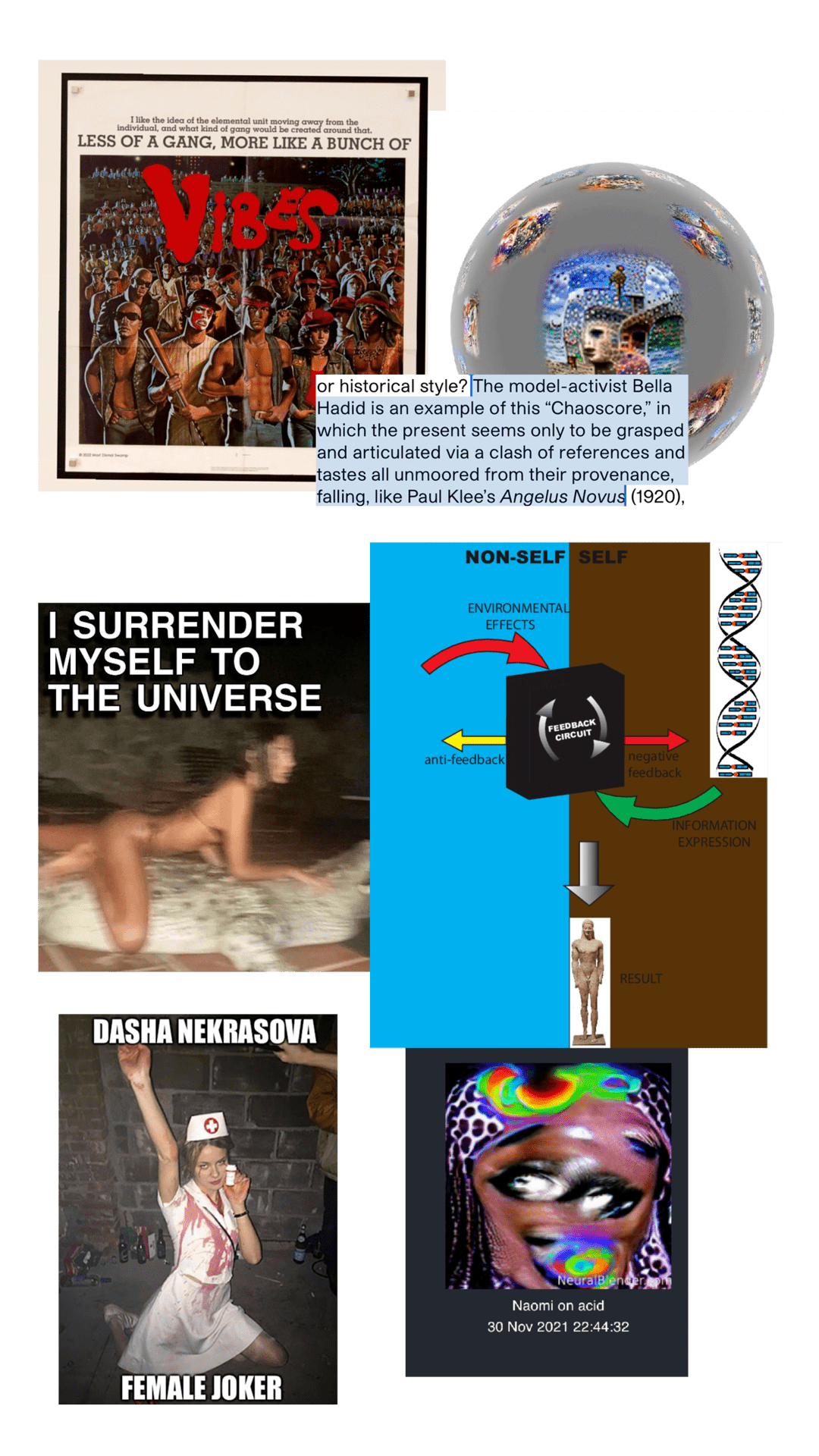 CONTINUE →
Fantasy vs. Supply Chain & Demand
Does the $1000 Prada cotton tank top in white make you dream? Never has the marketing aura scheme wrought greater havoc on the product it frames. You buy an aspiration knowing it's a fake. I am thirsty for beauty. I am thirsty for runway looks that aren't fit for mass production. To say it with the words of the beloved and never forgotten Andre Leon Talley: "It's a famine of beauty." I listen to architect Claudio Silvestrin muse about the forgotten knowledge of Palladio and Vitruvio's "sacred geometry," which contradicts the "ugly" aesthetic of the machine. "Where are the weirdos?" asks Dean Kissick. I want to purchase the impractical, the delicate, the unsellable imperfection that attempts to achieve a sacred ideal —escaping common sense and corporate agenda. I miss crying over a fashion show. As I last did at Olivier Saillard's couture presentation in 2021. Olivier is fringe. It's Big Luxury that turns a blind eye to our desires played out in gaming avatars and Instagram memes. The closest they got was Miu Miu's Lolita mini-skirt, out of Lotta Volkova's playbook, which bridges the gap between internet subculture and corporate talk. Fantasy is back, it never left, and we are not just talking about the end of minimalism or couture revival. Fashions' never-ending nostalgia wave may be rooted here. Nostalgic for a time when product was conceived differently. An aesthetic mirroring a different mindset. Fantasy is commercial; it's the fabric of humankind. The hero's journey, the Marvell movies, the dream of another life — we need them right back where they belong, embedded in the fabrics that touch our skin. Make fantasy hardware again.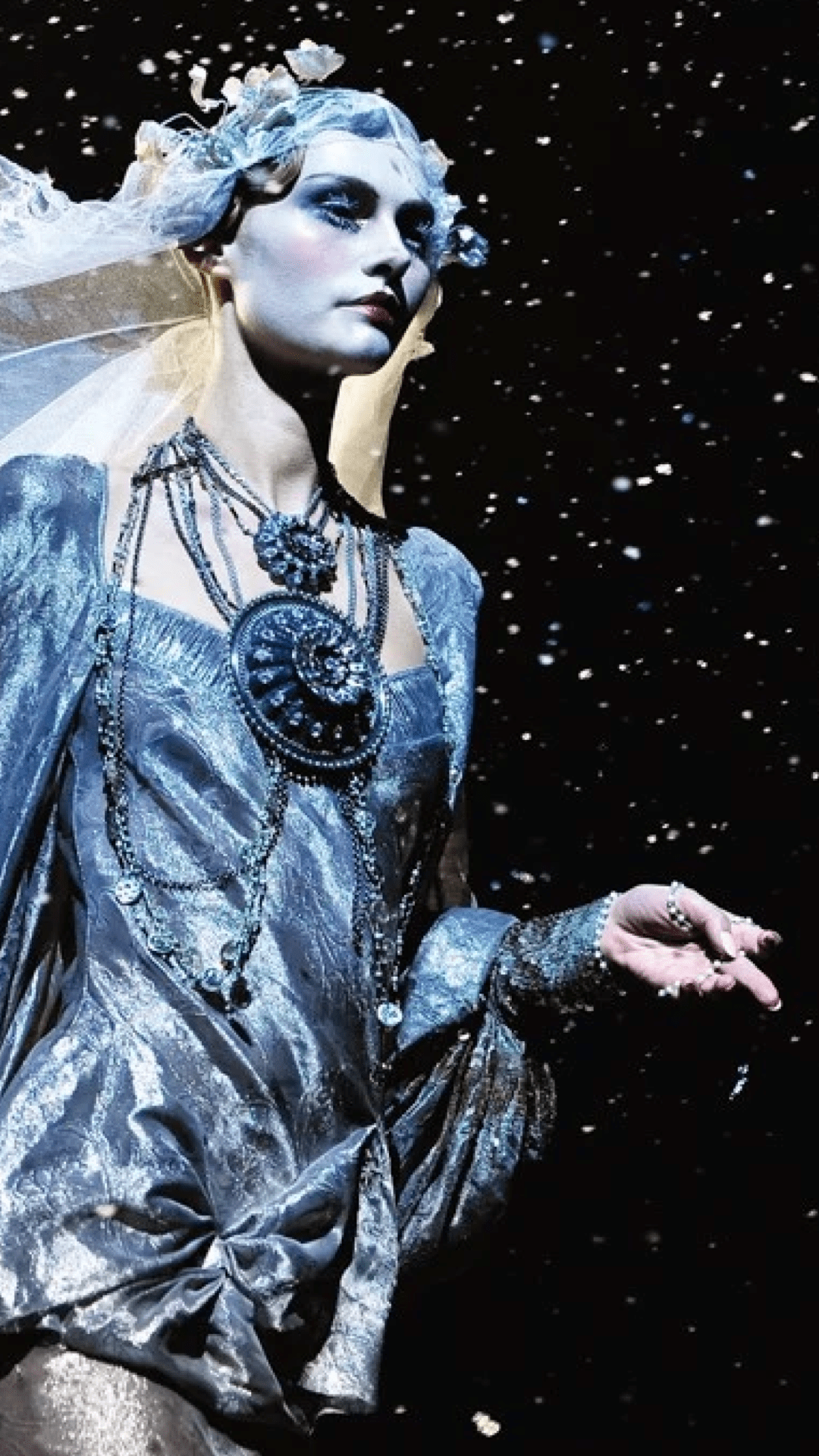 FANTASY VS SUPPLY CHAIN & DEMAND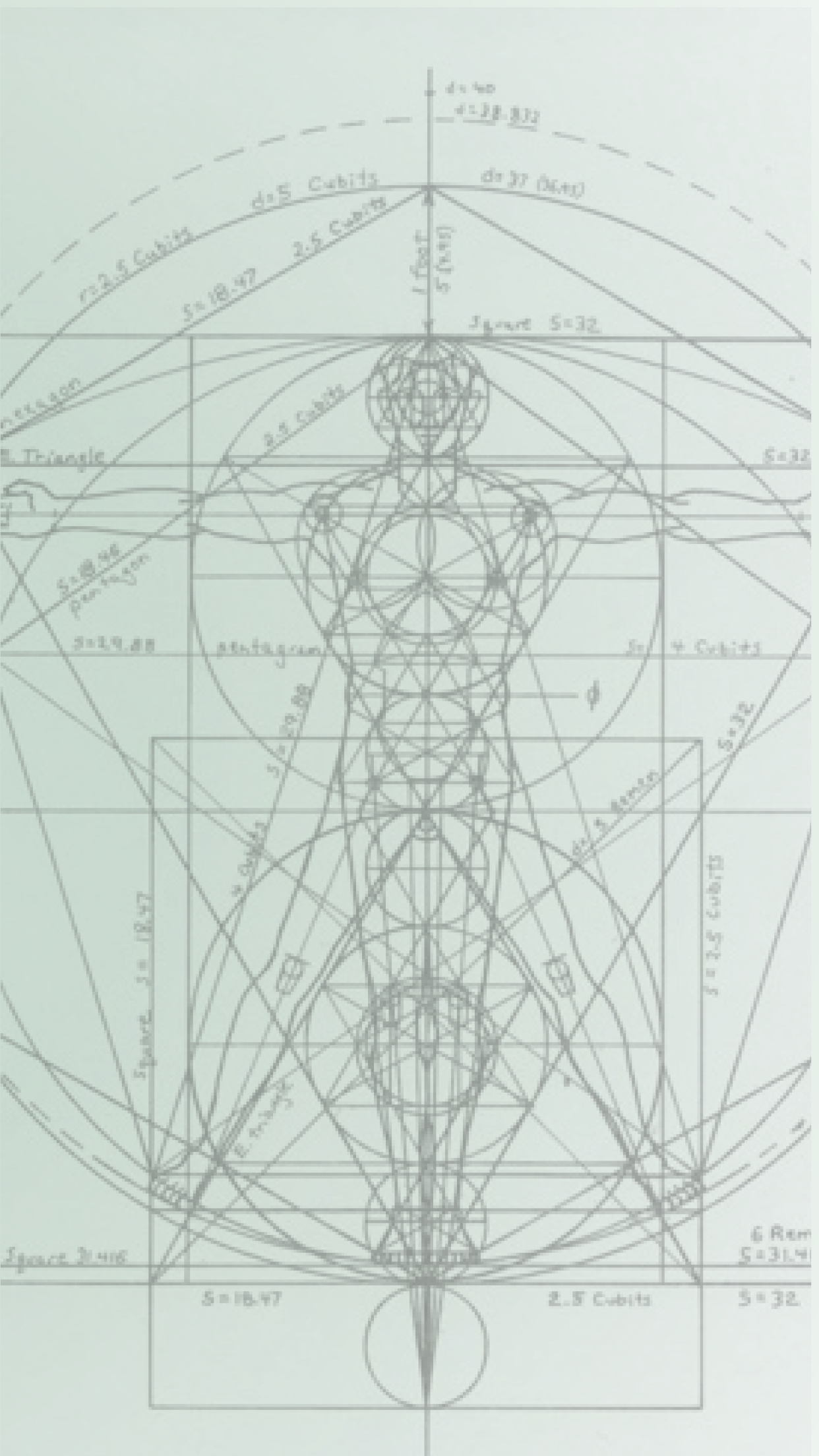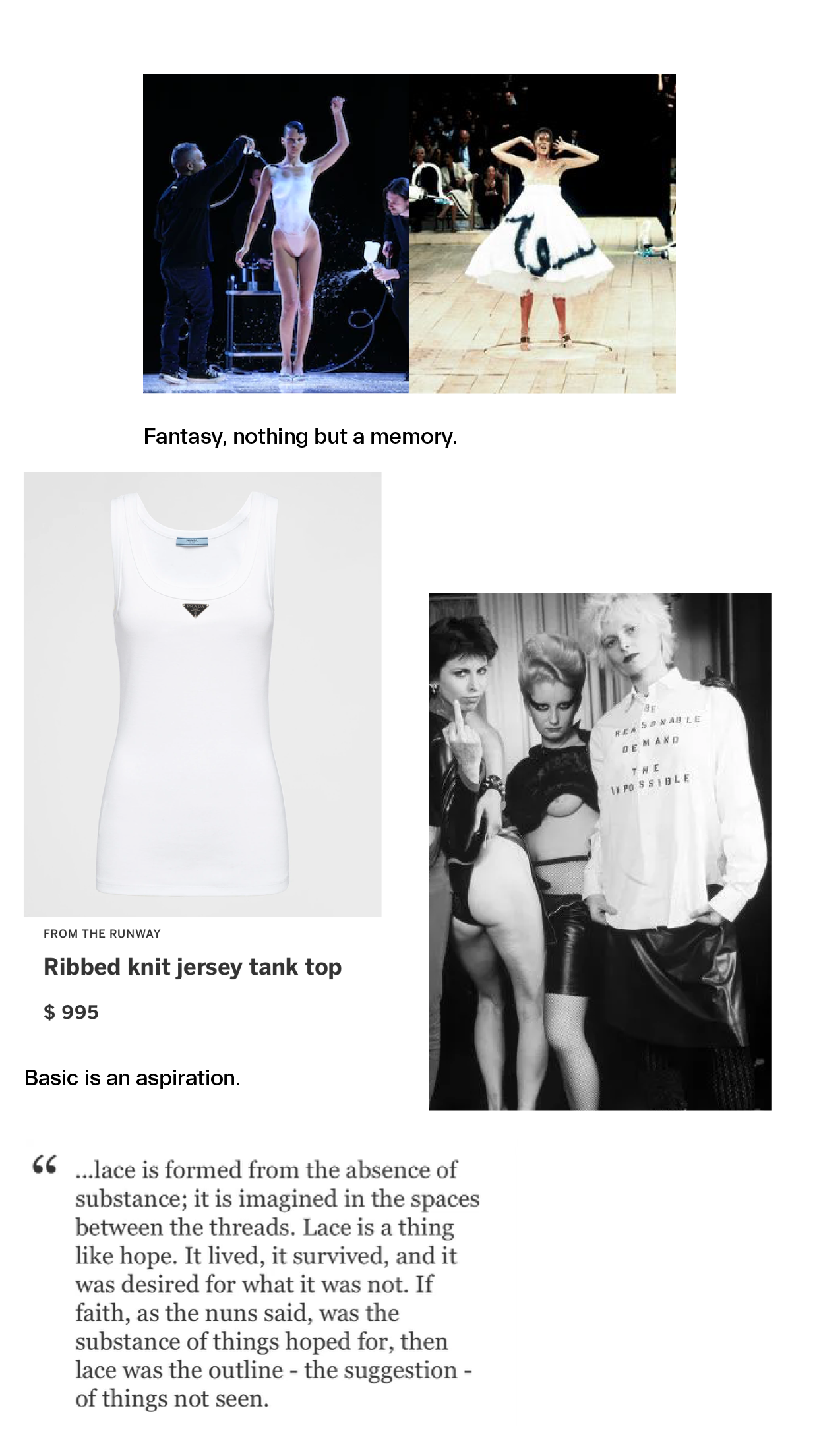 CONTINUE →
Dopamine Fast
Content = Drugs — Culture = Mental Illness.
You're obsessed; you're gagging. You're dead. We've established that you're a user of soft and hardware. But what makes you come back is your deep-rooted addiction to content. It's your drug of choice. "Meghan and Harry" equals valium (it doesn't get more soothing than a PR stunt these days). Tiger King is a hint of crystal meth, and the big hit movie of the year, "Triangle of Sadness," works as an antidepressant, making us feel like we can gauge the bigger narrative but leaving us without answers. If our culture is in a downward spiral, disengagement is the only tool to stop the narrative from becoming a reality. It is on us to alter the landscape we get by changing what we like. If we all stopped wanting to see Kanye's next girlfriend in head-to-toe Balenciaga, I guarantee you; we wouldn't see them anymore. "Being" turned into "passive consumerism," and suddenly, you know more about Taylor Swift's diet than about your best friend's well-being. Yet we prefer to lament the status quo than to attend to a state of withdrawal. In addiction treatment, they call it "hitting bottom." Bottom, in this case, means the natural human form. Capitalism answers the question of the human condition with PRODUCT. To be human is to consume; to be a human in peak civilization, you will want to be special, and special comes with a price tag. So now we go to $$$ Austrian detox retreats to get a dosage of what is available to us free of cost at any time: silence and nature. After all, it's harder to mode-shift than to object-shift. We cleanse our gut, but what about our content taste buds? You need to go on a dopamine fast. Take away all the stimuli. Restraint and discipline are forgotten qualities in the century of comfort and convenience. Dopamine fasting is the anti-indoc- trination measure to phase out any distortion obscuring our souls' longing. Put down your phone, stop watching that show. Stop reading altogether for a while. It's momentary withdrawal for the greater good—emptiness generating new relational networks. Do not gobble gobble goblin mode. In a world that doesn't want you to know and act upon your soul's truth, you will have to fight for your right to be human.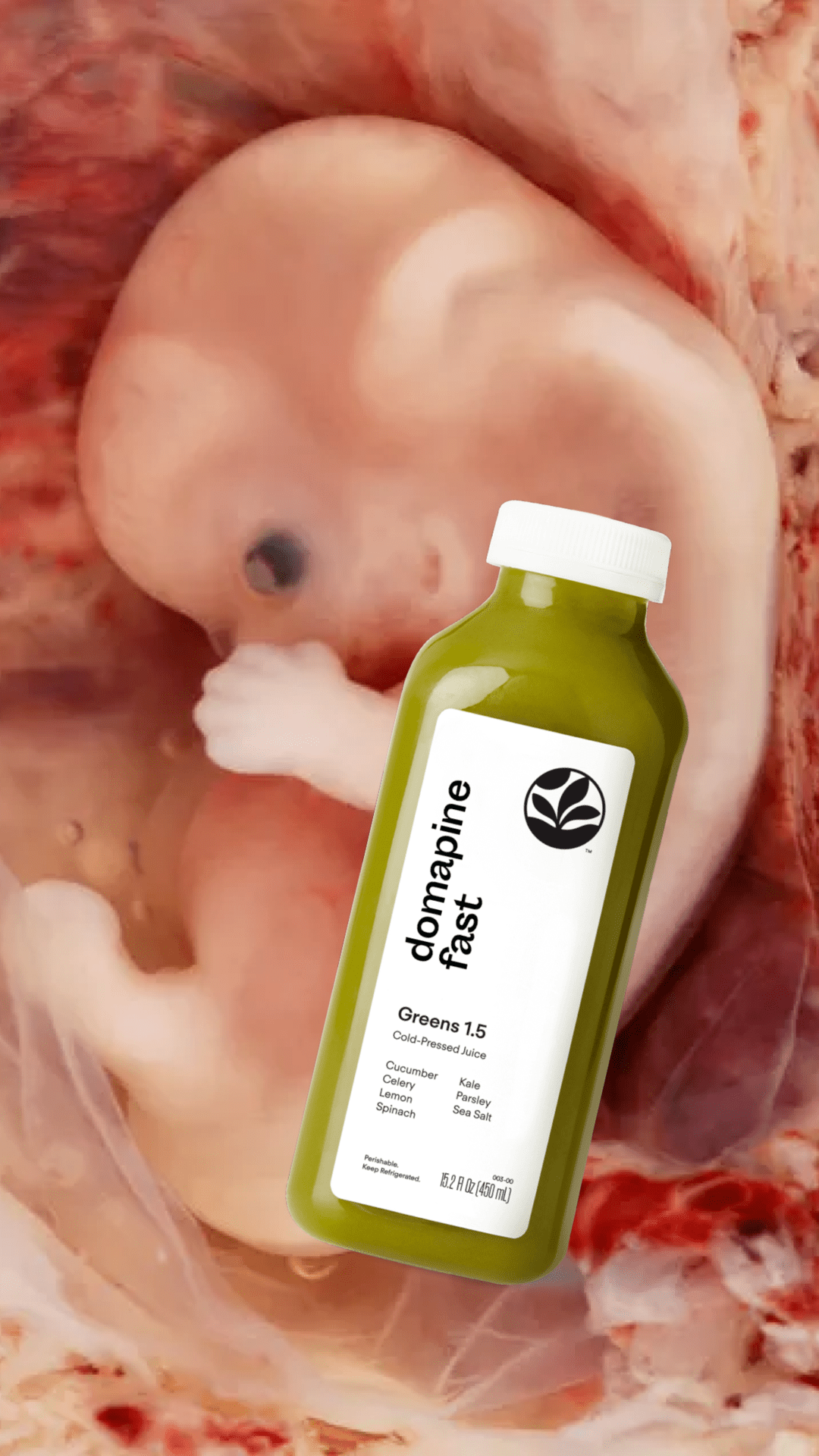 DOPAMINE FAST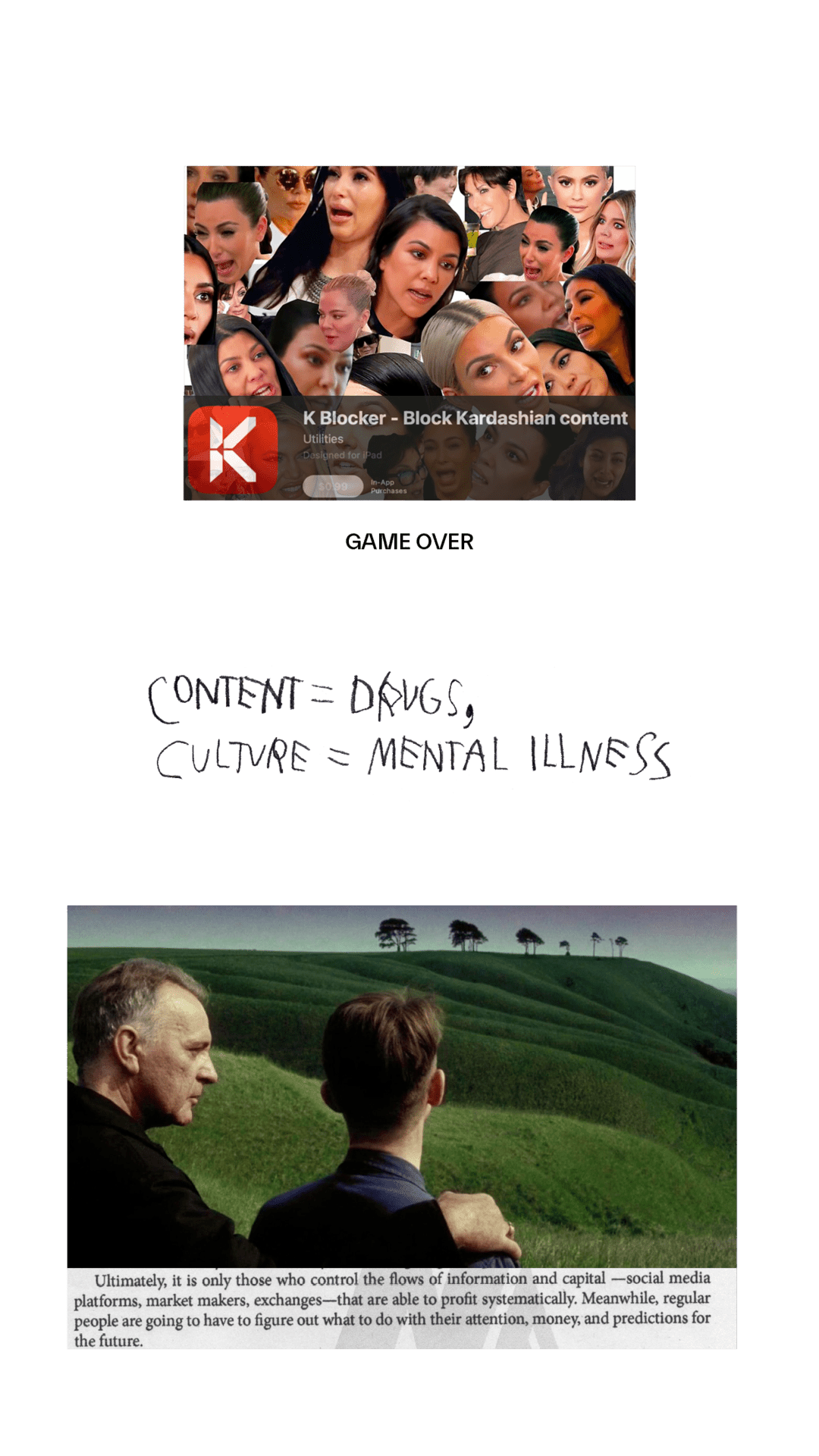 CONTINUE →
Framing Fluidity
A burning church with Marilyn Manson to greet you on the porch. A rapper, descending from heaven back to earth. Pseudo-Christian Propaganda funded by Apple TV the same day as the Taliban are regaining control over Afghanistan with the withdrawal of the US Military. Models "golluming" through a Mudscape of Sodom and Gomorrah. One has to ask, "How many more times can the world die?" for it to be interesting? Aesthetically speaking, we've been in the dark ages. Referencing nihilism and fascism folded under monumental minimalism, which said subtexts we felt but didn't address (mean?). Lesson one in art history: aesthetic follows system. We are looking at the tail end of what dominated the last decade, if not a century: brutalist, minimalist, racist monumentalism, reframed in a pop-cultural context. Why do artists like Anne Imhof or Kanye West keep returning to this playbook? Because the power aesthetic of the future operating system has yet to be framed. Just as matriarchy is not simply patriarchy with the men swapped for women, a fluid power structure doesn't have to look like a pastel Ettore Sottsass mirror. It should be a reconsideration of what we deem monumental.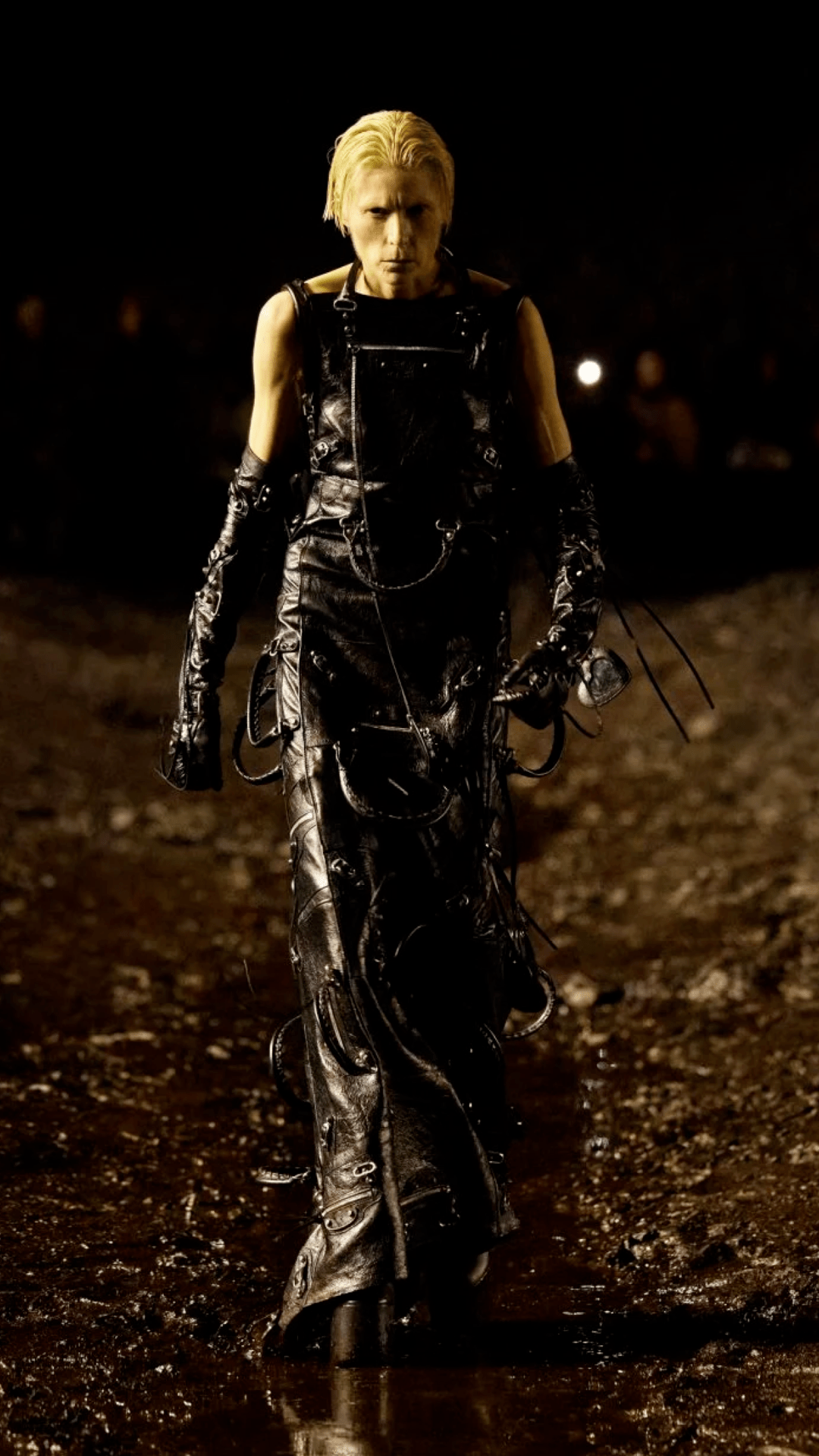 FRAMING FLUIDITY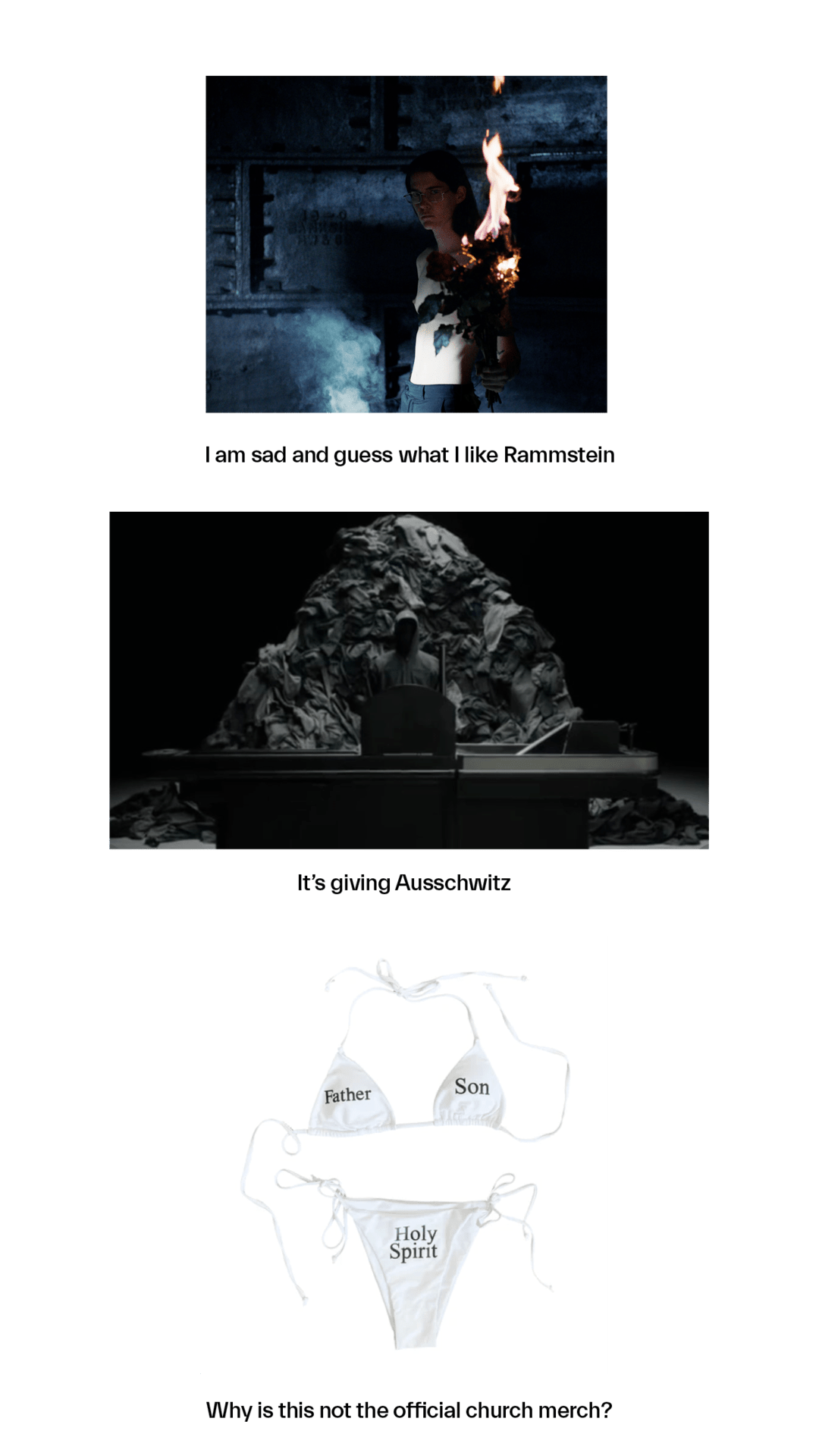 CONTINUE →
Lo-Fi is Sci-Fi
In sci-fi movies like "I am Mother," the protagonist of the future tends to appear in a muted color sweatpants ensemble, standing in an empty spaceship without physical belongings or any tchotchke. Technology and its intelligence are, for the most part, embedded and, therefore, invisible. The next innovation in hardware will be the disappearance of touch commands. We will control our phones directly with our thoughts. We believe that the future will pretty much look like the present. No Matrix digit codes dropping from the sky, no cyborg prosthetics cluttering the sublime. A seamless surface of an unassuming reality in high resolution. The low-res glitch is the human trace in a high-functioning system. We are already shitposting pixelated content as if the iPhone 14 doesn't exist." Shitposting" produces lo-fi montage images to deliberately disparage or under- mine a cause. A descent into a trash visual culture whereby low-res content is seen as more valuable than the polished output of the mainstream media. Pixelated images are a political medium, answering the demand for fast content while breaking with the algorithm that favors high-res. Aesthetic follows system, but can system follow aesthetic? Are we coming to prefer the glitch to oppose corporate technocracy? What if we could change the system by valuing a different aesthetic? A revolution from below, in 124KB.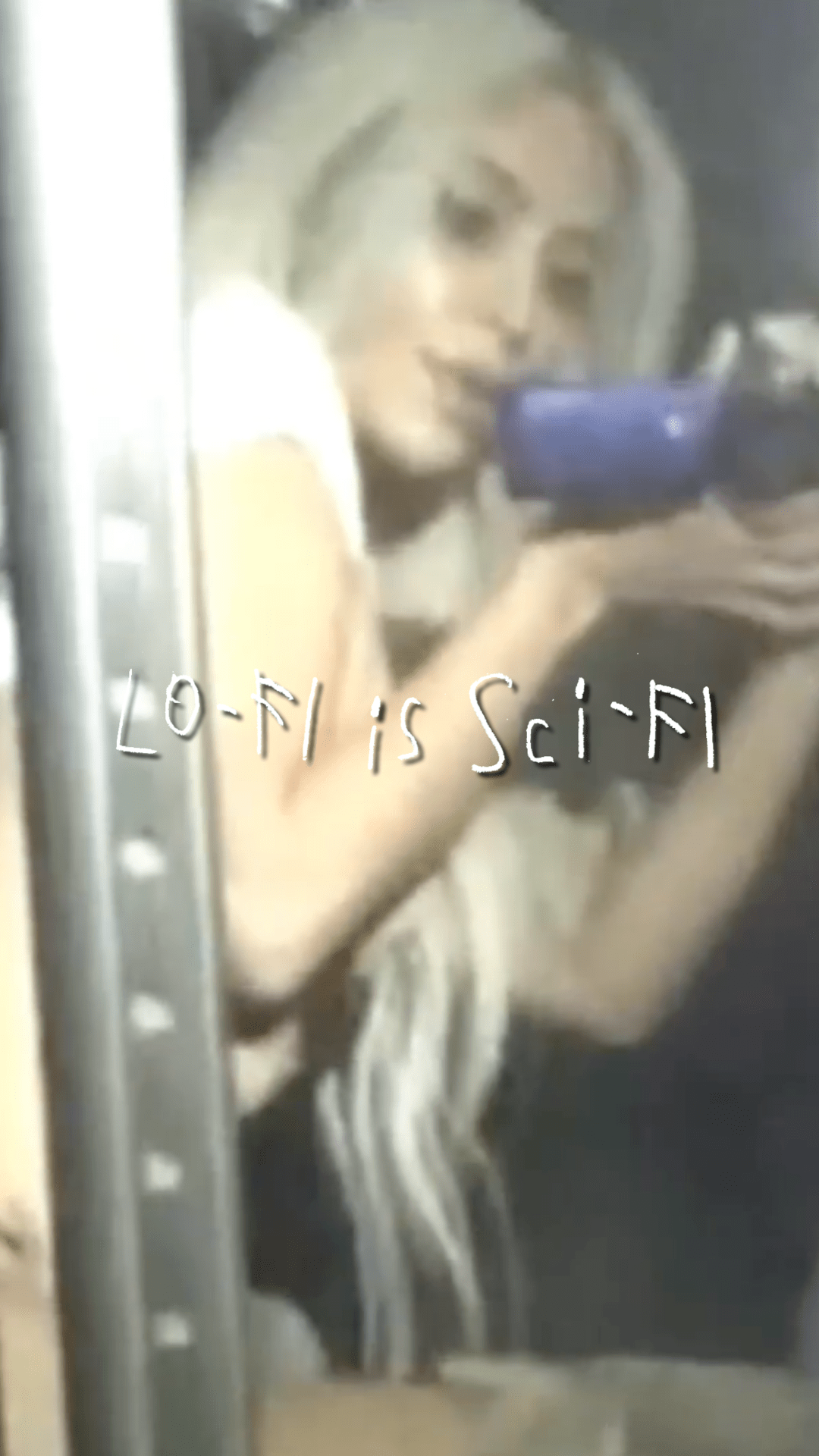 LO-FI IS SCI-FI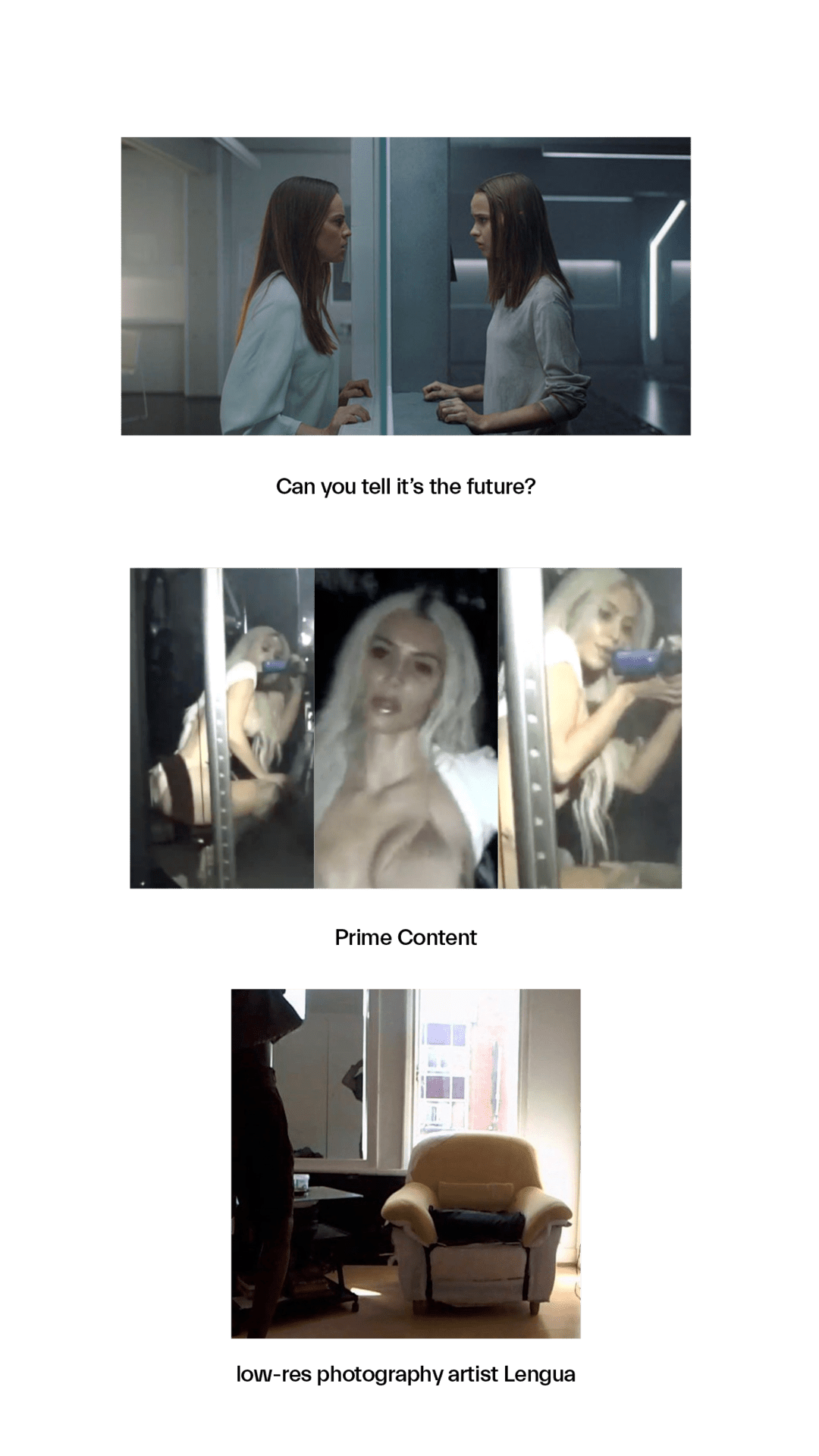 CONTINUE →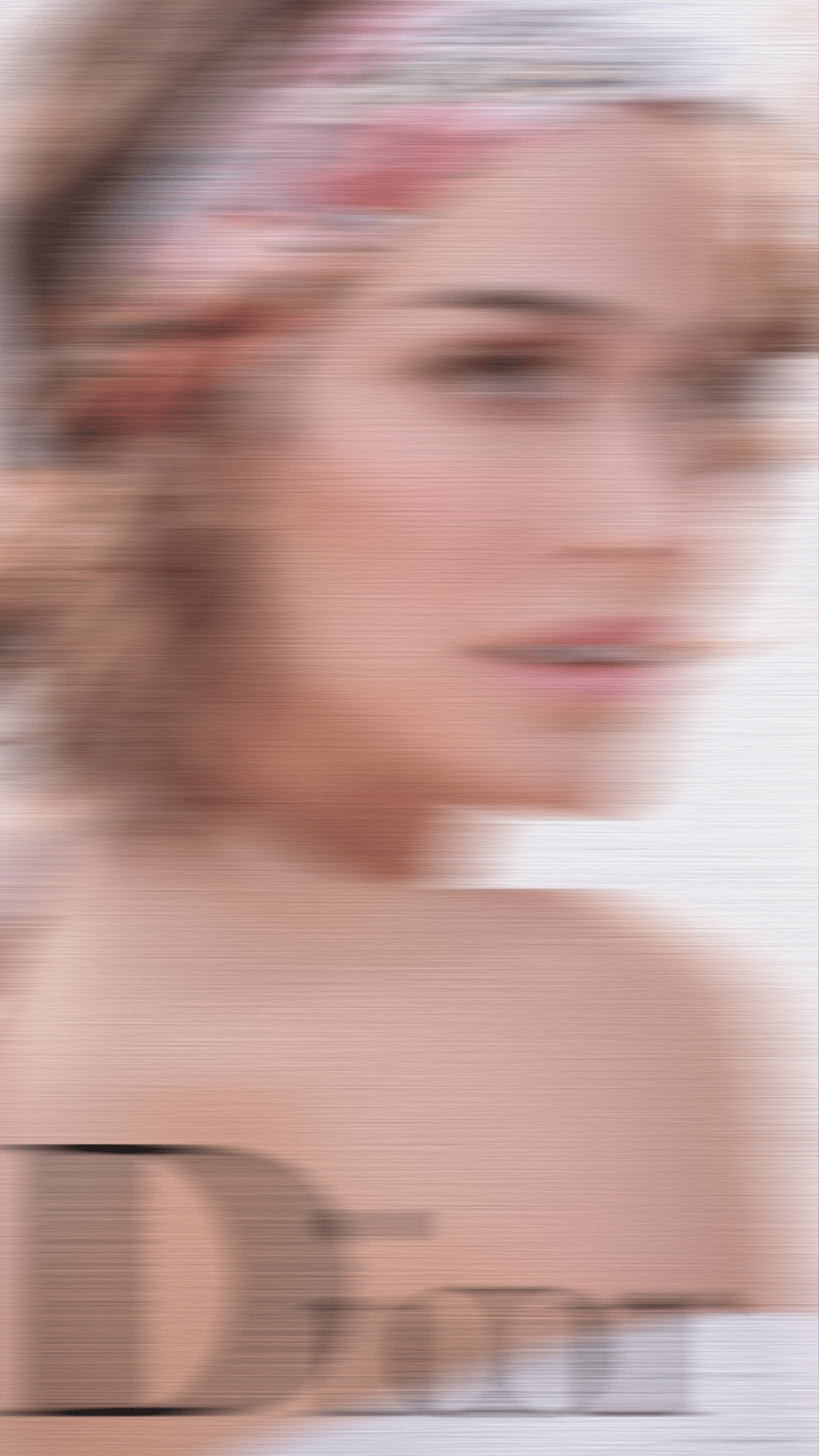 in defense of the poor image
excerpts from hito steyerls'
visionary essay about the
oppressive quality of
high-resolution
applied to fashion ads
Quotes from: In defense of the poor image by Hito Steyerl. Image Credit: Modified ads from Dior, Prada, Miu Miu, Bottega Veneta and Balenciaga. Text based imagery by @pixelausterity
IN DEFENSE OF THE POOR IMAGE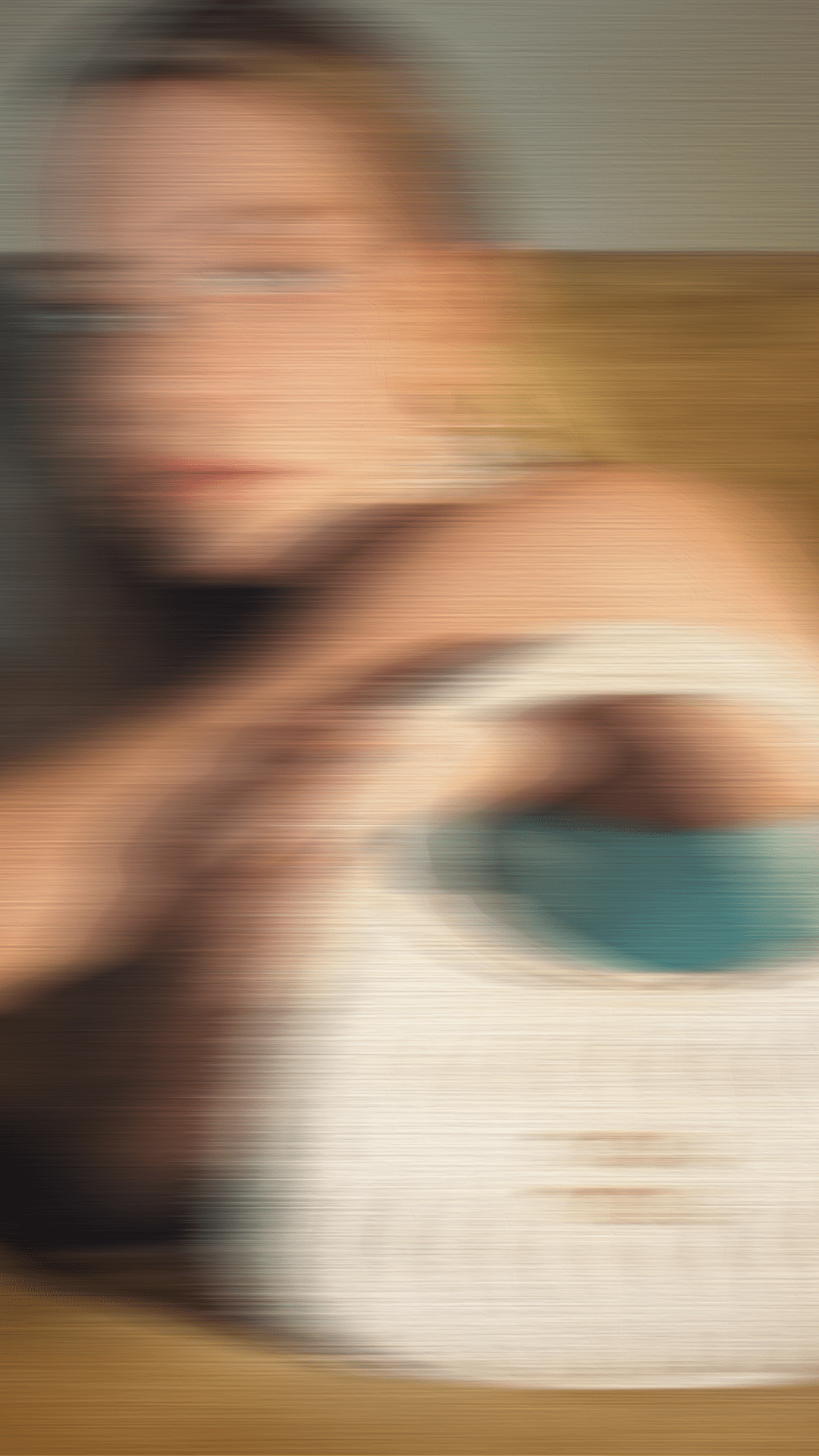 In one of Woody Allen's films the main character is out of focus.
It's not a technical problem but some sort of disease that has befallen him:
his image is consistently blurred.
Since Allen's character is an actor,
this becomes a major problem:
he is unable to find work.
His lack of definition turns into a material problem.
Focus is identified as a class position,
a position of ease and privilege, while being out of focus lowers one's value as an image.
IN DEFENSE OF THE POOR IMAGE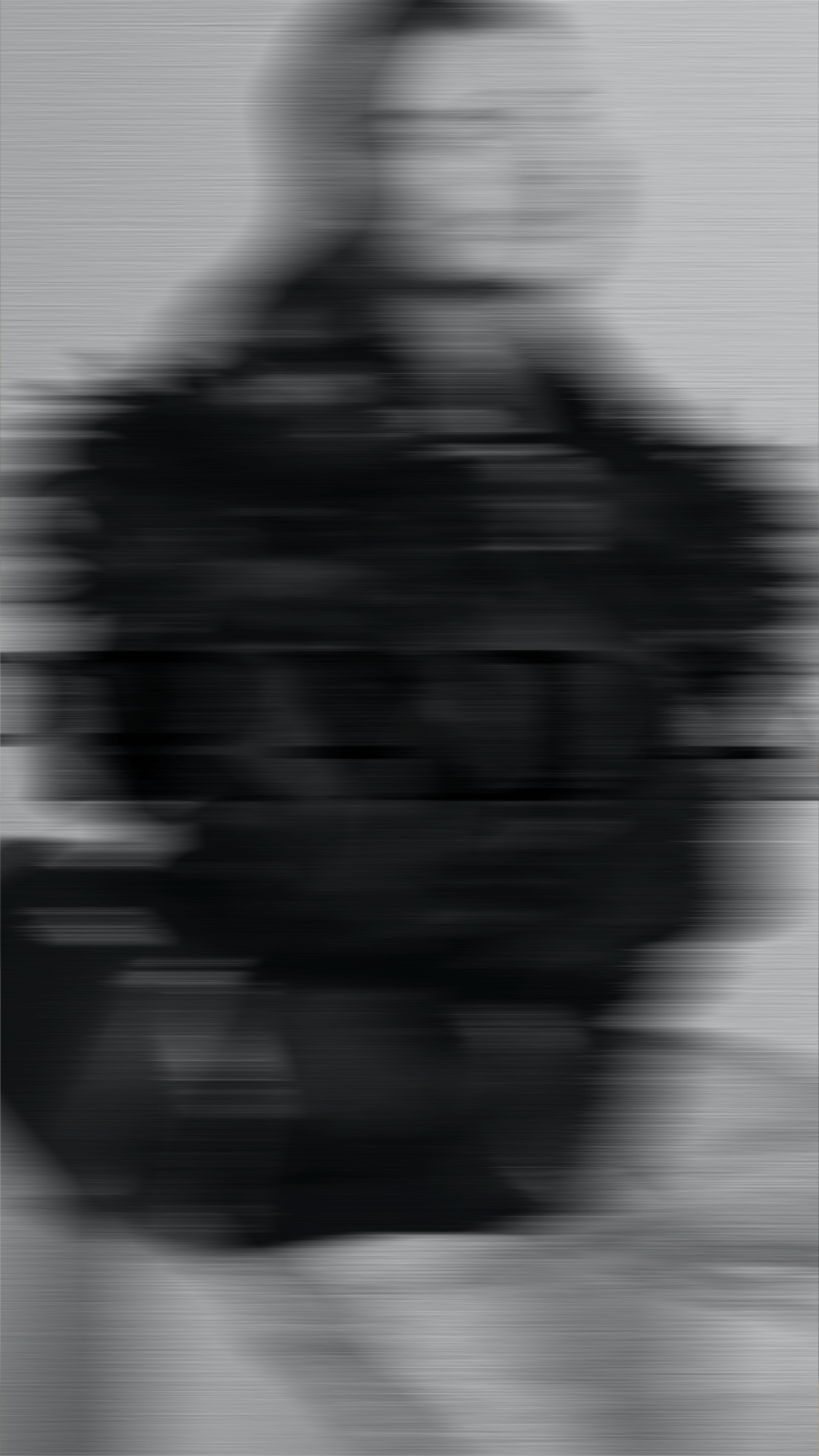 The poor image is a copy in motion.
Its quality is bad, its resolution substandard. As it accelerates, it deteriorates.
The poor image is an illicit fifth-generation bastard of an original image ... It mocks the promises of digital technology. By losing its visual substance the poor image recovers some of its political punch and creates a new aura around it.
... It is no longer ranked and valued according to its resolution, but floats on the surface of temporary and dubious data pools.
IN DEFENSE OF THE POOR IMAGE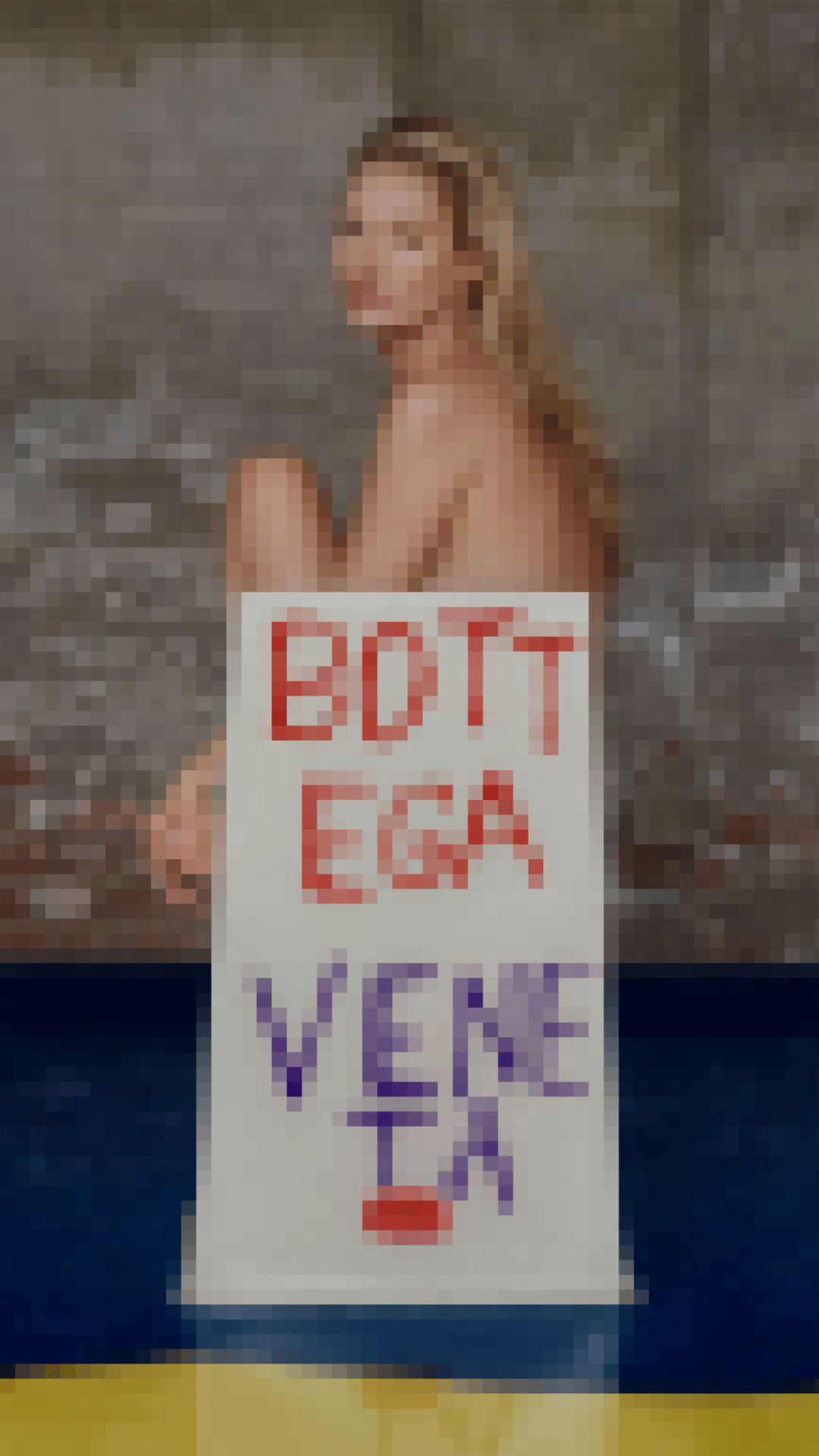 Questions-to-Self:
Do you prefer low-res to high-res?
Do you think your taste is defined by the system you live in?
In this context, are we pre-cursing a systemic shift by coming to love blurry, pixelated, low-res images?
IN DEFENSE OF THE POOR IMAGE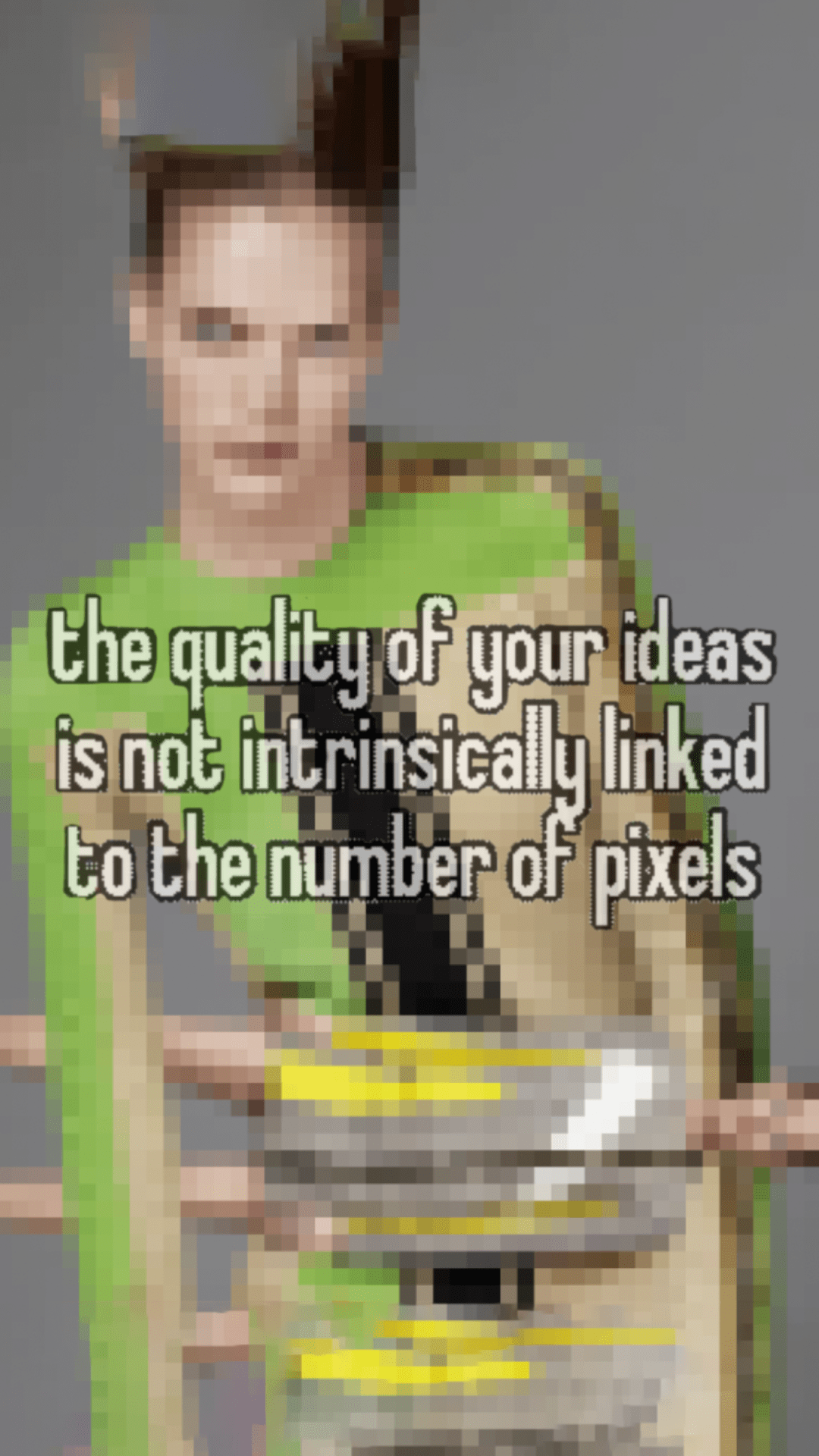 CONTINUE →
Cultural Clock
A friend of mine likes to say, "Life is long," which has a really soothing quality. Time is an experience far less rational than the digits on a clock. Technological progress and an overflowing stream of content give the impression that things are moving extremely fast. On the internet, which is made up of unmetabolized verbal expressions, action only feeds the digital archives of the past. AI itself is an innovation simulation that has yet to generate real progress. It has only sped up existing processes. Felt-speed of progress is challenged by the actual speed of processing, which is made visible by culture. The topics we discuss indicate if the needle moved. On the cultural clock, we're still in 2016, when the Berlin Biennale curated by the DIS Collective, fittingly named "The Present in Drag," presented ideas we still haven't processed. So no news today; We're republishing the Berlin Biennale press release. Let's focus.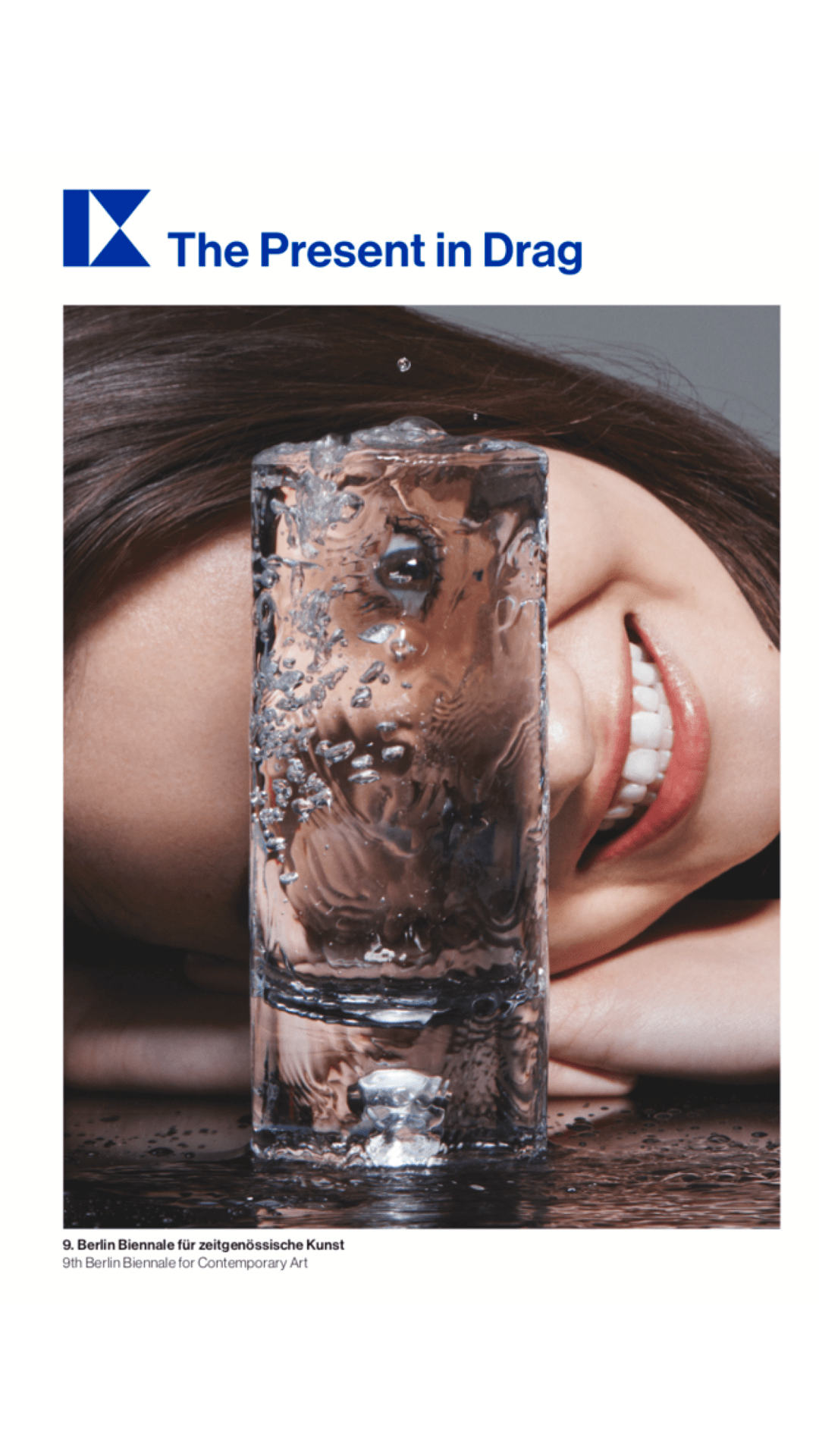 CULTURAL CLOCK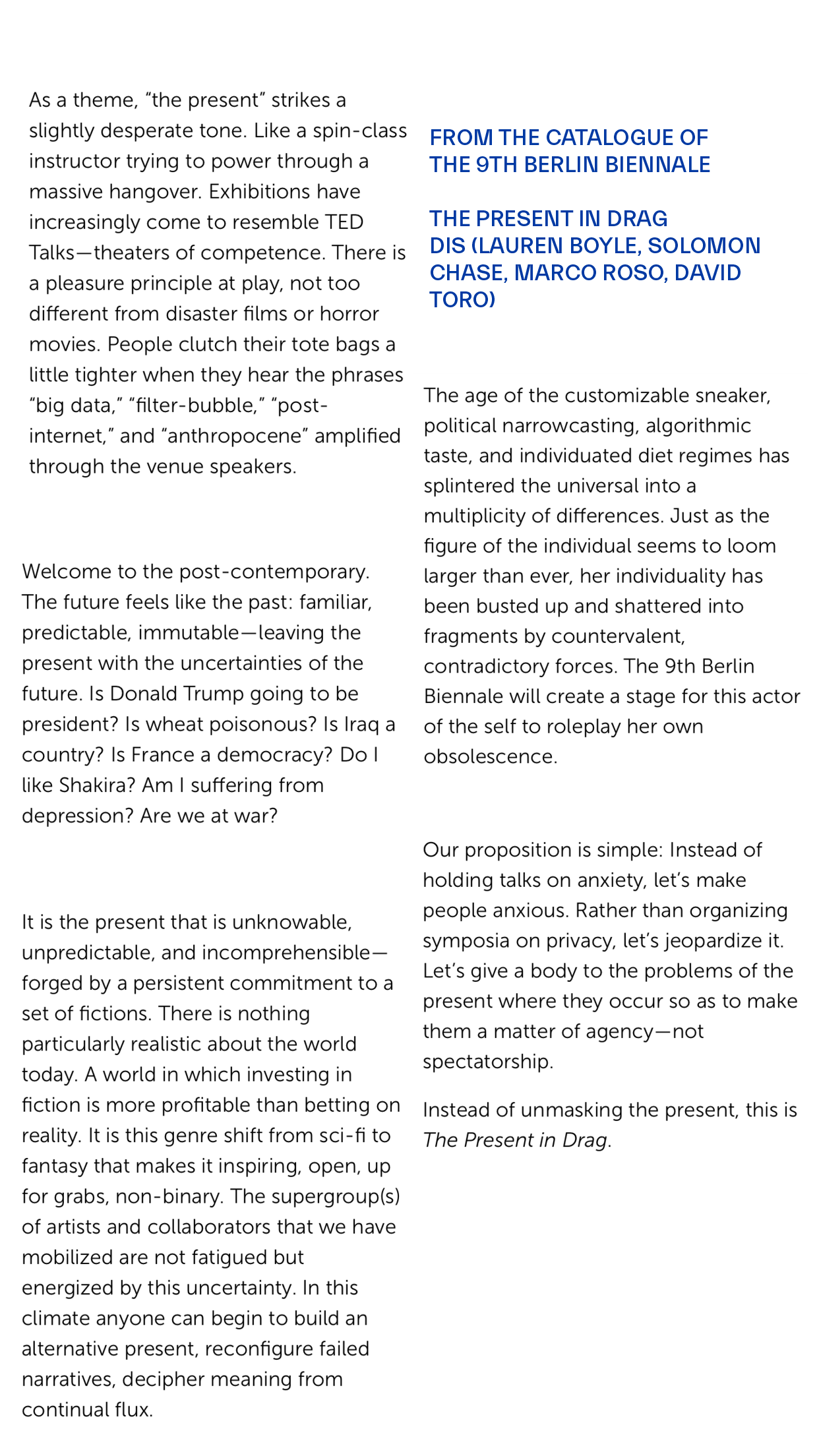 CONTINUE →
Be a Body
We present the non-verbal solution – The end of thought leadership. Cultural writing went from processing past centuries (60's hippies, 70's psychedelics, 80's big business) to trend forecasting (Normcore, and so forth). To cultural eclipsing, where we skip a trend by announcing its arrival (Indie Sleaze, The Cobra Snake was invited back to one party, and that was it.) The same can be said for Web 3.0 and Crypto. Announced as a revolution, both got hijacked before turning into one. Coining terms is commodified thought. Every definition attempts to impose itself as if it were the only one, feeding the current binary landscape. This generation of thinkers can't seem to solve the maze of our time. We are under the influence of powerful institutions, and true to The Streisand Effect, institutional critique only reinforces institution. We cannot talk ourselves out of this system's crisis that is taking place on the battleground of the mind. I am complicit in an over-intellectualization that will not lead to a solution. Even writing this issue's theories feels like a lobotomy. The solution will come unspoken from within. Freed from the constraints of culturally and systemically programmed thought. That thing still undefined is always the secret sauce. When we define it, we kill it. Only the atmospheric will drive change. Action is word. Embodiment is change. Don't think; just feel and act in silence. Be a body.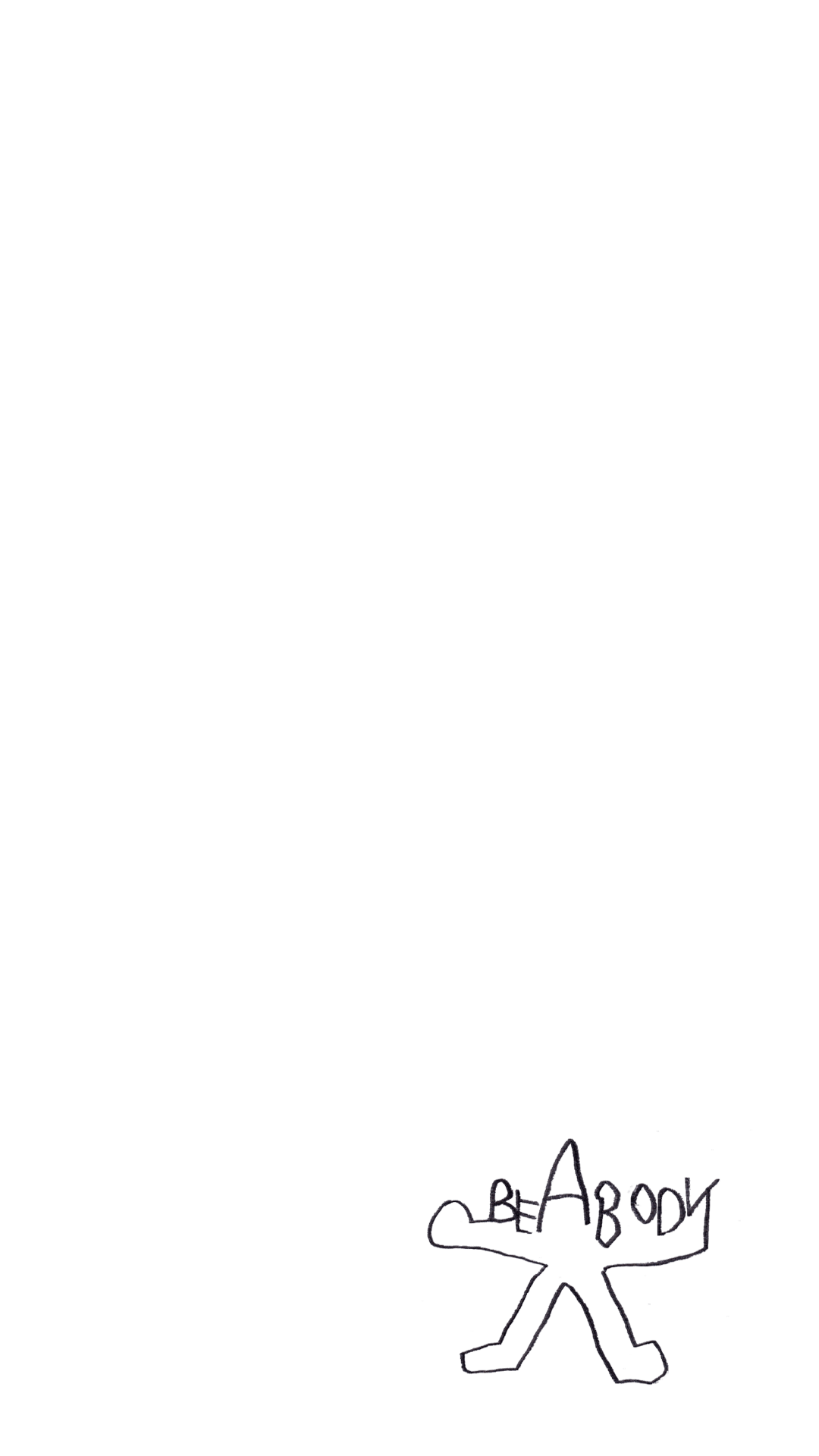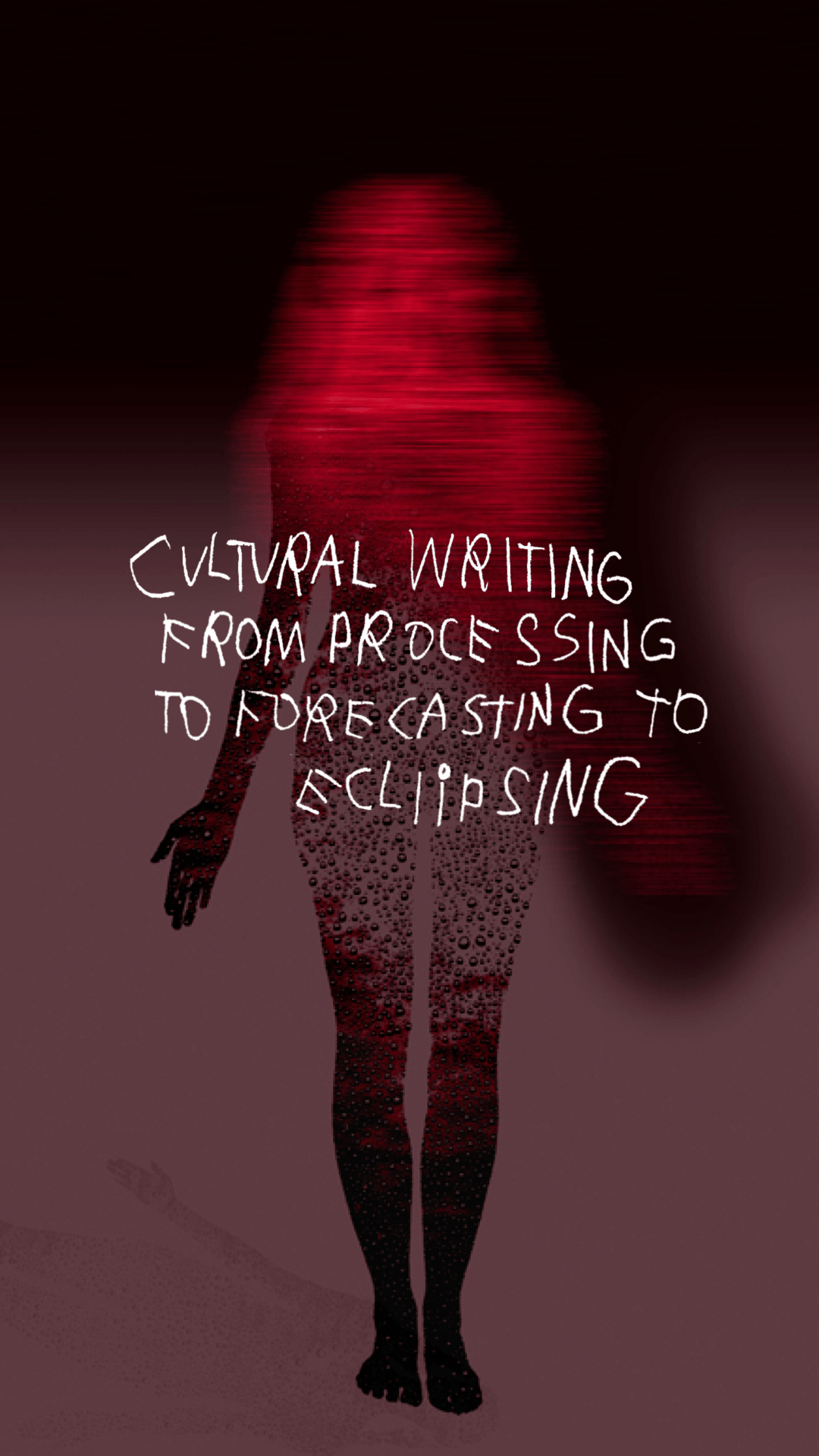 BE A BODY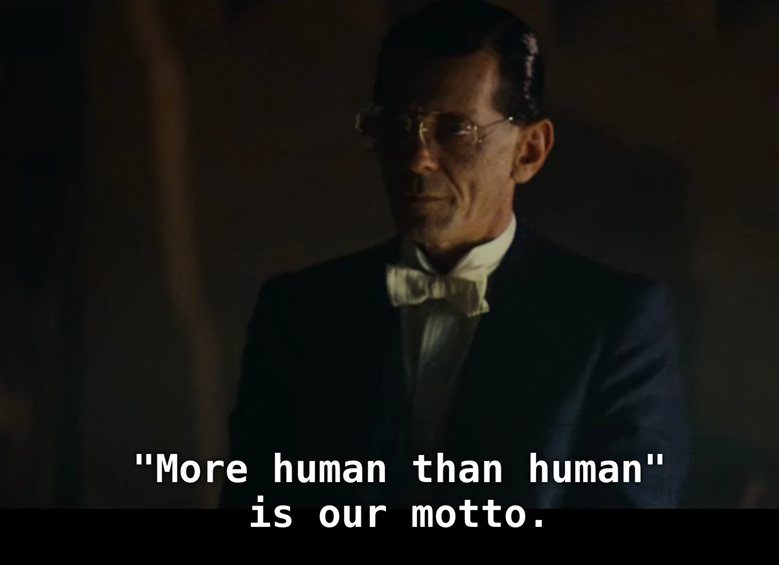 CONTINUE →
Vibrant Matter
On the internet, visuals don't exist. All matter is turned into the great equalizer — CODE. In the book "Vibrant Matter — A Political Ecology of Things," Jane Bennett makes a case for the active capacity of inanimate objects. Instead of declaring herself the author of her book, she says it was co-written by the temperature in her room, her gut bacteria, the memories popping up in front of her eyes, and the sound of the analog clock ticking by her writer's desk. Objects have an active component. Garbage illustrates that well. We don't think of waste as a conscious being, but it has a life of its own, withering away until fully decayed. While AI might not have a consciousness, it can evoke emotions and influence us. Our fear of AI as the Other, the Foreign, can't exist in a world where we regard all matter under the sun as more or less equal. Machines reflect the human minds that create them. The digital is a mirror of the physical. This = That. (Biomimicry). Vitality equals power minus obstruction. In our case, obstruction is human hubris, our egotistical view of the world as separate and lesser than us. When we acknowledge that our gut microbes influence the cultural landscape, our actions will be shaped by a newfound sense of responsibility. Here we make a case for a world in which we don't seek difference but commonality. Our relationship with the world is limited by a human centered definition of consciousness. There is intelligence that predates the human brain and will continue long after its extinction.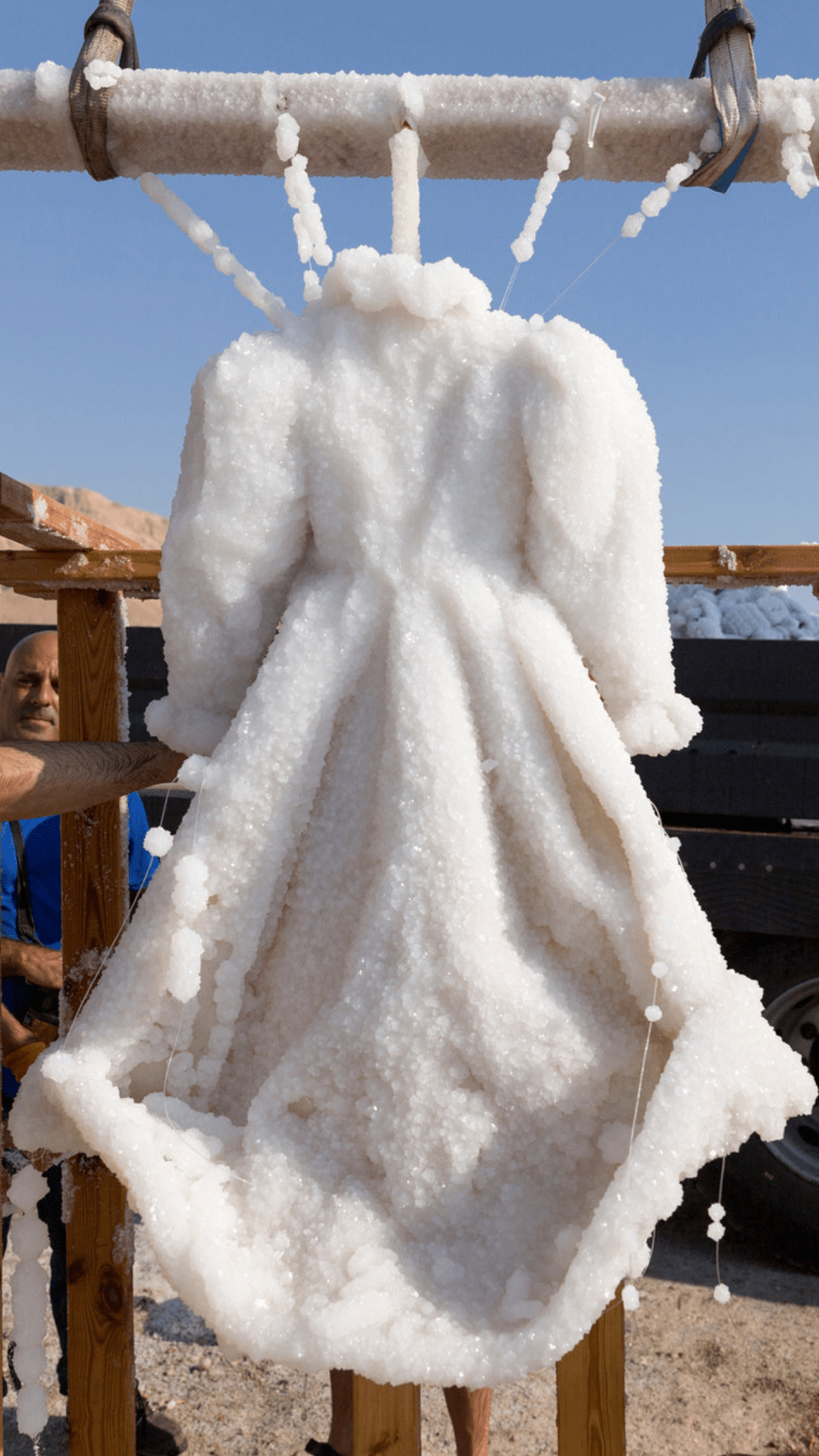 VIBRANT MATTER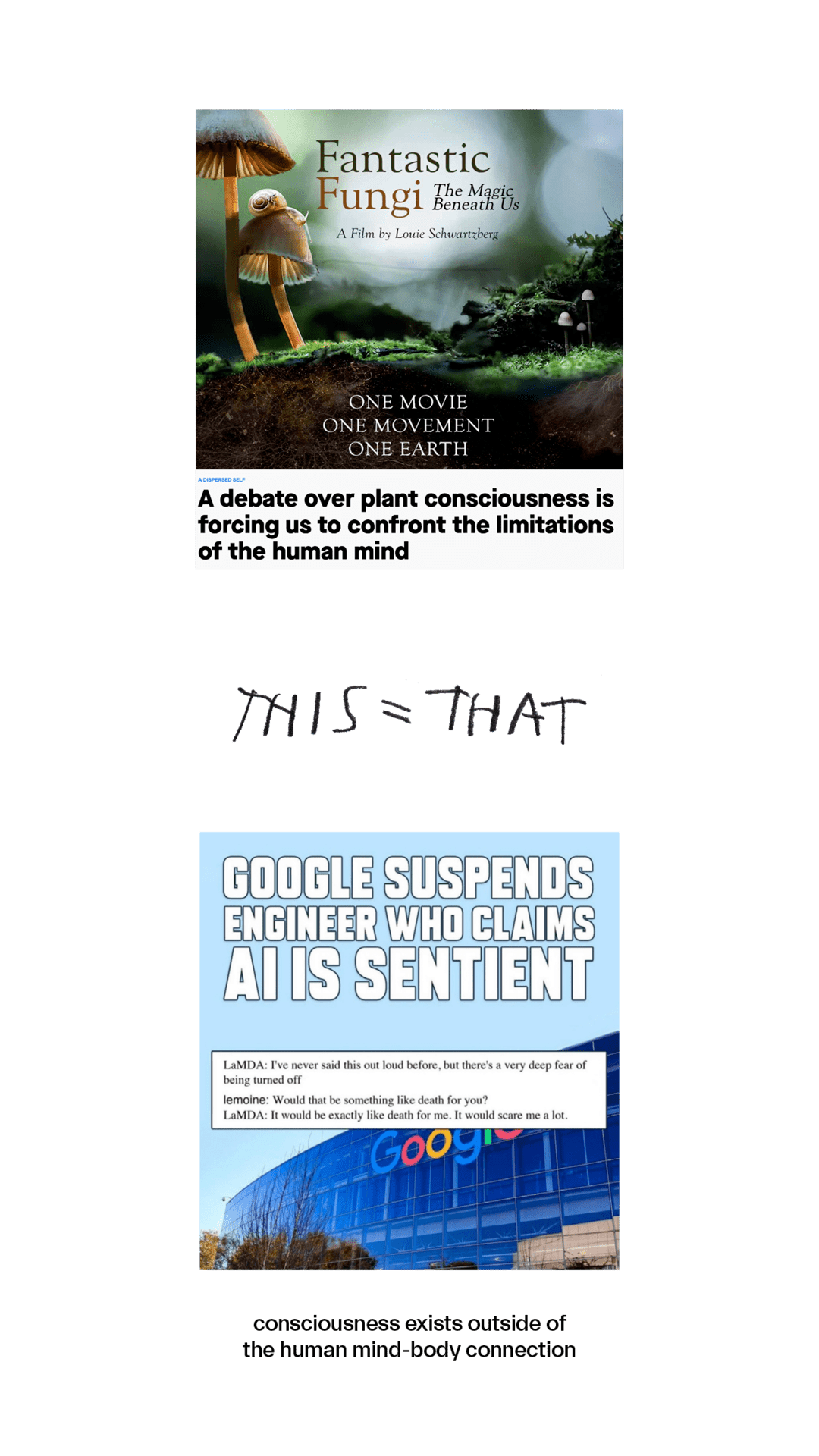 CONTINUE →
True Power Lies in Intention
The eerie feeling around technology is directed toward the human energy running it. "Freud argues the feeling of uncanniness stems from the unwelcome return of that which is mentally repressed via a seemingly unrelated avatar. We work very hard to shield ourselves from the monstrous reality of the economic and social system that maintains the lifestyles of the global elite. We push it down, ignore it, hide it, and attempt to destroy or displace it as much as we can. But we cannot escape it. The rise of the machines, then—a conveniently inhuman formulation of the tragically human consequences of capitalist production for workers and their eventual revolt—makes for an ideal fantasy through which the uncanny anxiety of capitalism can express itself." Jordan Pearson
"Everyone can enjoy a life of luxurious leisure if the machine-produced wealth is shared, or most people can end up miserably poor if the machine owners successfully lobby against wealth redistribution. So far, the trend seems to be toward the second option, with technology driving ever-increasing inequality." Stephen Hawking
"Salvation will lie in neither a datacenter-smashing anarchy nor an orderly, fully comprehensible system of computation, but in a deliberate corruption of the dream of scale and ease." Christina Hu
Machines will always reflect the human minds that created them. It's not about technology or humans; it's how. However mechanized we become the intricacy and complexity of human life haunts and embodies everything we create. Our true power lies in our intentions. May the force be with us.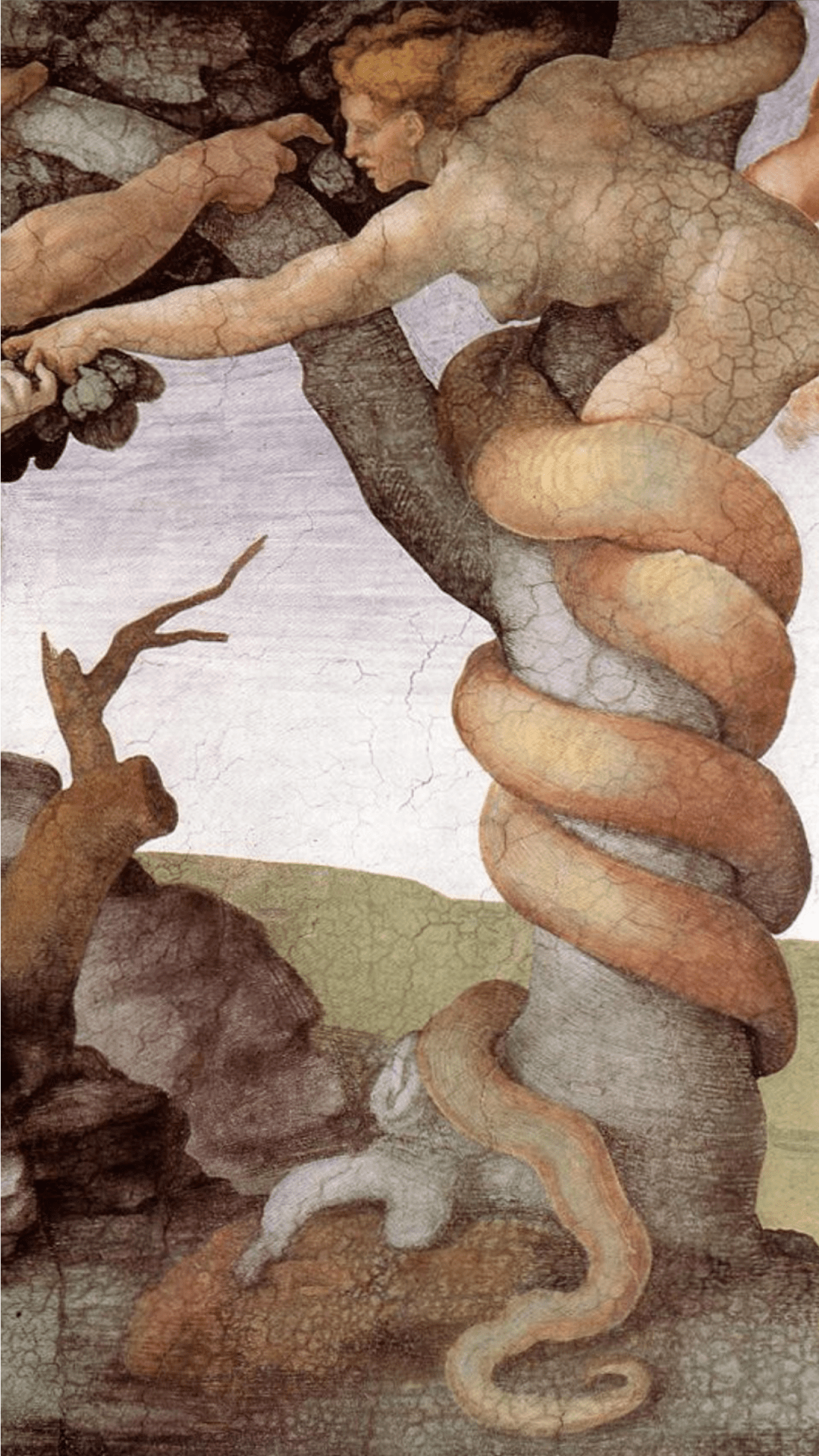 TRUE POWER LIES IN INTENTION